Le laboratoire des gaz de schiste au Québec et la fabrication des territoires par l'action collective
In the context of Quebec's Strategic environmental assessment on shale gas, we intended to explore a front of interdisciplinarity, bringing the importance of place (as triptyc of actors/space/time) and collective action in the process of social acceptability. Following a complex definition of social acceptability, this paper focuses on the micro-social process of coordination, social interpretation and construction of the meaning tied to an object. Thus, three different methodologies were taken in order to capture a "photo" of contextualized rationalities offered in debates, a "radiography" of their relationships with macro-structural factors and a "movie" of social interactions in a specific territory. In conclusion, territorial actors have, in such an unusual and uncertain situation, some real potential to influence a process that is more open and interactive than it may appear at first.
Dans le cadre de l'évaluation environnementale stratégique sur les gaz de schiste menée au Québec, nous avons tenté de défricher un front de l'interdisciplinarité, en rappelant l'importance des lieux (comme triptyque acteurs/espace/temps) et de l'action collective dans le processus d'acceptabilité sociale. Dans le prolongement d'une définition complexe de l'acceptabilité sociale, nous nous concentrons ici sur le processus micro-social de coordination, d'interprétation sociale et de fabrication du sens attaché à un objet. Trois méthodologies différentes permettent ainsi de saisir une « photographie » des rationalités contextualisées en présence dans les débats, une « radiographie » de leurs rapports avec certains facteurs macro-structurels et un « film » naissant des jeux d'acteurs dans un territoire particulier. En conclusion, les acteurs territoriaux ont, dans une telle situation inédite et incertaine, de réelles marges de manoeuvre pour influer sur un processus plus ouvert et interactif qu'il n'y paraît.
Fichier principal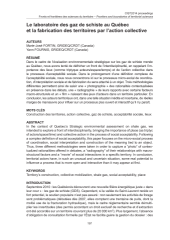 cist2014_laboratoire_des_gaz_de_schiste_au_quebec_et_fabrication_des_territoires_par_action_collective.pdf (585.37 Ko)
Télécharger le fichier
Origin : Files produced by the author(s)