La « disparition de Tuvalu » : analyse des discours autour d'une mise sur l'agenda
This paper offers to briefly analyse the emergence of various discourses on the possible disappearing of the territory of the small island State of Tuvalu (due to climate change and sea level rise) with the use of the theory of public policies and the concept of agenda setting. It will focus on the production of scientific discourses and their translation in the media and political fields. The case of Tuvalu is analysed at various scales, whether at the international level (such as UN arenas and academic research field) or at the regional level (bilateral relation with New Zealand regarding aid or migration policies). The goal is to understand the territory as an object of formulation of scenarios and of stands in a competitive space. Thus, the various strategies and other preoccupations of stakeholders, using the symbolic power of the territory, will be highlighted.
Cette communication propose d'analyser l'émergence des différents discours sur la potentielle disparition du territoire de Tuvalu au regard de l'analyse des politiques publiques et de la théorie de la mise sur l'agenda. Nous nous intéresserons à la production des discours scientifiques et leurs traductions dans les champs médiatiques et politiques. Le cas de Tuvalu est analysé à plusieurs échelles, que ce soit au niveau international (arènes onusiennes, champ de la recherche universitaire) ou bien régional (dans ses relations avec la Nouvelle-Zélande en termes de politiques d'aide ou de migration). L'enjeu est de montrer le territoire comme un objet de formulation de scénarios et de prises de position au sein d'un espace concurrentiel. On soulignera ainsi les différentes stratégies et préoccupations annexes des acteurs qui peuvent utiliser la puissance symbolique forte du territoire pour la défense de certains intérêts particuliers.
Fichier principal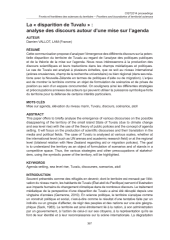 cist2014_disparition_de_tuvalu_analyse_discours_autour_mise_sur_lagenda.pdf (242.18 Ko)
Télécharger le fichier
Origin : Files produced by the author(s)