Changement d'image et de représentation d'un territoire enclavé : Mafate (La Réunion)
The Mafate Cirque is inhabited by approximately 750 people. This area is situated wihin the National Park of La Reunion Island, a French overseas territory, and in the "Pitons, cirques and remparts" UNESCO World Heritage site since 2010. Located in the mountains, the territory of Mafate is known for its natural way of life, and its majestic natural setting. These landscapes are now very attractive for tourists who practise trekking or mountain race. However, this positive image of Mafate is new since, berforehand, the settlement of slaves and poor farmers had generated a negative opinion about Mafate for a long time. In this paper, we study this recent change about Mafate perception, with an emphasis on the institutional structures of the territory and associated economic opportunities. This had been realised in a two-stage process: with political action to social and economic development in a first time and with the heritage dynamic in a second time.
Le cirque de Mafate est habité par environ 750 personnes et possède la particularité d'être à l'intérieur du Parc national de La Réunion créé en 2007 et dans le site « Pitons, cirques et remparts » inscrit au patrimoine mondial de l'UNESCO en 2010. Le territoire de Mafate, situé dans les hauteurs de l'île de La Réunion, est aujourd'hui emblématique d'un mode de vie proche de la nature, dans un décor naturel majestueux, apte à mobiliser une activité touristique en expansion. Son image aujourd'hui positive tranche cependant avec la vision très négative et dépréciée de cet espace au cours des deux derniers siècles, eu égard à l'histoire de son peuplement issu de la fuite des esclaves et de la relégation de paysans déshérités. C'est ce changement d'image récent de Mafate que nous étudierons dans cette communication, en insistant sur ses relations avec la construction institutionnelle du territoire ainsi que des opportunités économiques qui lui sont liées.
Fichier principal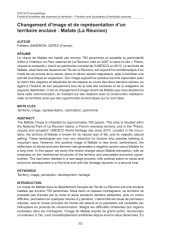 cist2014_changement_dimage_et_de_representation_dun_territoire_enclave_mafate_la_reunion.pdf (205.55 Ko)
Télécharger le fichier
Origin : Files produced by the author(s)