La territorialisation par et pour l'écotourisme dans les aires protégées
Ecotourism is often seen as a panacea that can contribute to economic development, environmental protection, and the wellbeing of communities around protected areas. However, the empirical reality differs because the complex and multilevel nature of ecotourism is too often neglected during related interventions' implementation. Through this presentation, we wish to contibute to the debate on ecotourism in protected areas by seeing it as a territorialisation process and focussing on the notions of access and exclusion. The state of knowledge, the urgency of socio-economical conditions that caracterises many communities in the South, as well as the excessive enthusiasm for ecotourism from different stakeholders suggest to take a fresh look at these issues.
L'écotourisme est souvent présenté comme une panacée capable de concilier le développement économique, la protection de l'environnement et le bien-être des communautés autour des aires protégées. La réalité sur le terrain est cependant tout autre, car le caractère complexe et transcalaire de l'écotourisme est trop souvent négligé lors de la mise en oeuvre des interventions dans ce domaine. Cette communication souhaite contribuer à la réflexion sur le développement de l'écotourisme dans les aires protégées vu comme un processus de territorialisation et examiné à travers le prisme des notions d'accès et d'exclusion. L'état des connaissances dans ce domaine, l'urgence des conditions économiques et sociales qui caractérise plusieurs communautés des pays du Sud, ainsi que l'engouement démesuré pour l'écotourisme militent en faveur d'un regard renouvelé sur ces questions.
Fichier principal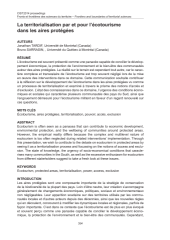 cist2014_territorialisation_par_et_pour_ecotourisme_dans_aires_protegees.pdf (236.82 Ko)
Télécharger le fichier
Origin : Files produced by the author(s)