Mortgage Market and Regional Development in Greece: Peculiarities and Consequences
This paper examines regional inequalities through the lens of the residential mortgage market in Greece, as an example of the South of Europe in the 2000s. It is commonly accepted that in recent years the financial deepening of economies has become one major dynamic that characterizes advanced economies, with the mortgage market constituting a great part of it (Sassen, 2009). This growing trend towards the financial system does not function in a space-neutral, homogeneous way, but one could detect spatial and social differentiations and inequalities across regions and multiple scales. In that context, certain regions have limited access to financial resources, while cities play a central role for real estate and mortgage market, with high property prices, and have become a major vehicle for the production of uneven development far beyond the local/city scale (Golubchikov, 2013). In a framework in which cities "may be conceived as places designed to maximize the interests of a small, powerful elite" (Aalbers, 2013), the "urbanisation" of the residential mortgage market will be discussed.
Cet article examine les inégalités régionales à travers le prisme du marché hypothécaire et des prix des logements en Grèce, comme un exemple de l'Europe du Sud dans les années 2000. Il est généralement accepté que ces dernières années l'approfondissement financier de l'économie est devenu une grande dynamique qui caractérise les économies développées, dont le marché hypothécaire constitue une grande partie (Sassen, 2009). Cette tendance croissante en direction du système financier n'évolue pas dans un espace neutre, homogène, mais on pourrait détecter des différenciations spatiales et sociales entre les régions. Ainsi, certaines régions ont un accès limité à des ressources financières, alors que les villes jouent un rôle central dans l'immobilier et le marché hypothécaire, avec des prix élevés de l'immobilier, et sont devenues un véhicule important du développement inégal bien au-delà de l'échelle du local/ville (Golubchikov, 2013). Dans ce contexte de villes qui sont souvent des lieux conçus pour maximiser les intérêts d'une petite élite puissante (Aalbers, 2013), nous discuterons de l'« urbanisation » du marché hypothécaire résidentiel.
Fichier principal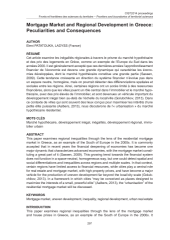 cist2014_mortgage_market_and_regional_development_in_greece_peculiarities_and_consequences.pdf (1.2 Mo)
Télécharger le fichier
Origin : Files produced by the author(s)