L'explication électorale au prisme des sciences du territoire
We currently observe a new interest for the place-based approach in the electoral studies. This interest is not limited to maps, but takes into account what political scientists call "context". The relationship between Political Science and territory appears more complex. Three major changes in the approach of vote must be taken into account: an access to socio-election data that are more numerous and precise, the international progress of democracy and associated information sources, the importance of a multi-scale and mobile context. The debates in Territorial Sciences provide an interesting discussion for all the election science: the territory can be considered as an issue (identity, representation, participation, mobilization, conflict...) or as a filter for the analysis (relegation, mobility, distance, proximity, neighbourhood...). The place-based approach is able to enrich the political dialogue between the two inputs.
On assiste actuellement à un retour de l'approche territorialisée des questions de socialisation politique, en particulier des questions électorales. Celle-ci se marque moins par un recours renouvelé à la carte et ses méthodes que par une prise en compte de ce que les politistes nomment « le contexte ». La relation science politique/territoire apparaît ainsi plus complexe. Trois évolutions majeures de l'approche territorialisée des votes doivent être prises en compte : l'accès à des données socio-électorales de plus en plus nombreuses et précises, l'ouverture internationale de la démocratie et des sources d'information associées, l'importance de la prise en considération d'un contexte multiscalaire et mobile. Les courants qui traversent les sciences du territoire offrent un point de débat intéressant l'ensemble de la science électorale : soit on entre par le territoire, perçu comme un enjeu (identité, représentation, participation, mobilisation, conflits…), soit on entre par l'espace, perçu comme un filtre d'analyse (relégation, mobilités, distance, proximité, voisinage…). L'approche territorialisée du politique s'enrichira du dialogue entre les deux entrées.
Fichier principal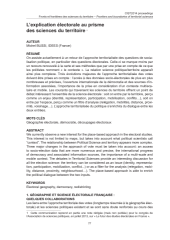 cist2014_explication_electorale_au_prisme_des_sciences_du_territoire.pdf (238.67 Ko)
Télécharger le fichier
Origin : Files produced by the author(s)