Frontières mouvantes dans une entreprise frontalière : regards pluridisciplinaires
Our paper focuses on a factory in the automotive industry located in the Moselle department (France) close to the French-German border, which is an organisation encompassing several types of limits and borders. As employees are mainly of French nationality, but also of German in a lesser extent, and the managing director is German, the company is a place where national, social and linguistic borders meet. Thanks to the academic background of geography, linguistics and sociology, the authors aim at identifying the respective roles of these types of borders within a company, especially in terms of the potential superimposition of the limits between high-skilled employee vs. worker, German-speaking vs. French-speaking, as well as German vs. French. The representation of these limits will be put in the territorial perspective of the factory environment through the places where the employees come from. The paper deals with the theoretical and methodological steps (research in progress).
Notre analyse se focalise sur les différents types de limites et frontières au sein d'une grande entreprise automobile située près de la frontière franco-allemande en Moselle (France). Comptant principalement des employés français mais aussi une minorité d'employés allemands, dirigée par un Allemand, l'entreprise est un lieu où se conjuguent frontières nationales, frontières sociales et frontières linguistiques. En recourant aux catégories d'analyses de la géographie, de la linguistique et de la sociologie, les auteurs visent à identifier le rôle respectif de ces types de limites et frontières dans l'enceinte de l'entreprise, notamment en termes de concomitance entre les limites cadre-ouvrier, germanophone-francophone et allemand-français. La représentation de ces limites sera remise dans la perspective du territoire dans lequel est implantée l'entreprise à travers les lieux d'origine des salariés. La communication porte sur les questionnements théoriques, la méthodologie et les premières étapes de son application (recherche en cours).
Fichier principal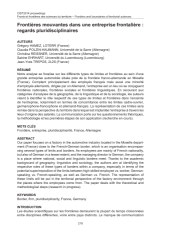 cist2014_frontieres_mouvantes_dans_entreprise_frontaliere_regrards_pluridisciplinaires.pdf (232.06 Ko)
Télécharger le fichier
Origin : Files produced by the author(s)