Diffusion globale de données continues : enquêtes sur les migrations internationales entre le Mexique, l'Amérique centrale et les États-Unis
The objective of this paper is to show an original experience on a migration flows surveys at the Northern and Southern borders of Mexico oriented to study the Mexican migration to the United States and the Central American migration towards Mexico and the United States. These ongoing surveys, along for 20 years on the Northern border and nearly 10 years on the southern border, have recently modernized their data collection and developed their dissemination on the Internet so as to make accessible to a broad public information once reserved for some researchers and government agencies. Technological innovations allow for quality control of the multi-places observatory and global diffusion of micro-data on international migration which is a very sensitive issue in Mexico. On the fieldwork, the enormous insecurity problems affecting both Mexican border-towns and the agents involved in the migration process assert new operational challenges.
L'objectif de cette communication est de présenter une expérience originale d'enquêtes sur les flux migratoires aux frontières nord et sud du Mexique, pour étudier les migrations mexicaines vers les États-Unis et les migrations centro-américaines vers le Mexique et les États-Unis. Enquêtes continues depuis 20 ans à la frontière nord et bientôt 10 ans à la frontière sud, elles ont récemment modernisé leur recueil de données et développé leur diffusion sur Internet pour rendre accessible à un large public une information autrefois réservée à quelques chercheurs et aux instances gouvernementales. Les innovations technologiques permettent un contrôle de qualité de cet observatoire multi-lieux et une diffusion globale des micro-données sur un thème très sensible au Mexique comme l'est la migration internationale. Sur le terrain, les énormes problèmes d'insécurité qui touchent les villes frontalières au Mexique et les agents intervenant dans le champ migratoire posent de nouveaux défis opératifs.
Fichier principal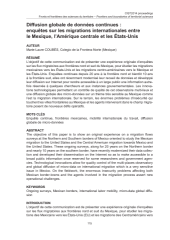 cist2014_diffusion_globale_de_donnees_continues_migrations_internationales_mexique_amerique_centrale_usa.pdf (350.12 Ko)
Télécharger le fichier
Origin : Files produced by the author(s)