Construire un instrument de mesure de la vitalité des communautés rurales : une expérience québécoise
The vitality of rural communities is becoming a major issue for citizens as well as for elected people and also a concern taking in account by some public policies. Such concept is a social and theorical construction; so, we cannot look at that reality directly; then, it is also difficult make a measurement. However, vitality is a determinant of local development that we can assess by many variables. So, it might be possible to build a rural community vitality index. The Quebec government had decided to provide such tool to the rural community which help them to know more about theirs own vitality over the time. We discover that many large cities have already used such vitality index and then we can use some of those indicators with adaptation to rural settings. In this paper, we will recall the methodological challenges we faced in building that rural vitality index and we give an overview of the prototype will build for Quebec rural communities.
La vitalité des communautés rurales est récemment devenue une préoccupation des citoyens, des collectivités et de leurs élus, tout comme une finalité de certaines politiques publiques. Cette notion est une construction sociale et théorique qui n'est pas directement observable et qui, par conséquent, n'est pas non plus directement mesurable. Toutefois, elle est aussi un déterminant du développement local en covariance avec un ensemble de variables. Ce constat permet la construction d'un instrument de mesure qui utilise différents indicateurs associés aux principales dimensions de la vitalité des communautés. Au Québec, dans le cadre de la Politique nationale de la ruralité, il était prévu de mettre à la disposition des collectivités un outil leur permettant de diagnostiquer leur vitalité locale, de mesurer son évolution dans le temps et de voir comment elle se compare à celle mesurée sur un groupe de municipalités comparables. Nous avons constaté que cette volonté de mesurer la vitalité sociale était très fréquente dans les grandes villes, ce qui a facilité notre travail d'idenfication des indicateurs bien que la réalité rurale nécessite des indicateurs appropriés. Construire un tel outil de mesure d'une réalité difficile à saisir a posé des défis méthodologiques que notre communication illustrera tout en présentant sommairement le prototype que nous avons mis au point.
Fichier principal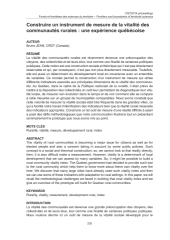 cist2014_construire_instrument_de_mesure_de_vitalite_des_communautes_rurales_quebec.pdf (266.23 Ko)
Télécharger le fichier
Origin : Files produced by the author(s)