Quand le Diplo contre-attaque. La territorialisation de la lutte médiatique contre la mondialisation néolibérale
This paper intends to show how a French newspaper, Le Monde diplomatique, has responded to globalization. This example will underline that a newspaper cannot be reduced to the role of a sensor or a reflection of reality but it can also become an influential actor, especially at the level of international relations. Indeed, the creation of ATTAC in 1998 by the journalists of Le Monde Diplomatique helped unite the fight against liberalism in France while integrating groups and associations mobilized in the movement against "neoliberal globalization", leading, in the early 2000s, to the formulation of an "anti-globalization" project.
Ce texte propose de montrer comment le mensuel Le Monde diplomatique a réagi face au processus de mondialisation, permettant de souligner qu'un journal ne se réduit pas au rôle de capteur ou de reflet de la réalité mais qu'il peut aussi devenir un acteur influent, y compris à l'échelle des relations internationales. En effet, la création d'ATTAC, en 1998, par les journalistes du Monde diplomatique a permis de fédérer la lutte contre le libéralisme en France tout en intégrant les groupes et les associations ainsi mobilisés dans le mouvement international d'opposition à la « mondialisation néolibérale », débouchant au début des années 2000 sur la formulation d'un projet qualifié d' « altermondialiste ». Cet engagement a été facilité par la territorialisation de l'édition et de la diffusion du mensuel antilibéral, très tôt organisée à l'échelle internationale.
Fichier principal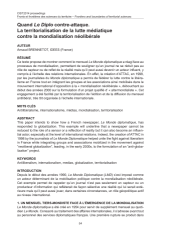 cist2014_territorialisation_de_la_lutte_mediatique_contre_mondialisation_neoliberale_le_diplo.pdf (513.8 Ko)
Télécharger le fichier
Origin : Files produced by the author(s)