Morphologie urbaine et logiques économiques : continuités et discontinuités territoriales en analyse
The discontinuity of urban fabric is a characteristic of three cities in São Paulo state: Marilia, São Carlos and Presidente Prudente. The growth of their urban fabrics through dispersion is related to the 21st century inducing dynamics and some vectors just as the role of public power in the production of social housing and the role of private agents with their investments, including the implantation of spaces of consumption oriented to high-income groups. These elements can show how urban structures are more complex and how spatial distances reinforce social distances. An important attention lays on the analysis of the spatial forms produced in order to broaden the debate around the relations between territorial continuity and spatial continuity, with a view to showing that territorial discontinuity is not only a matter of political administration, but also something that affects the constitution of urban territories as spaces where social experience is shared.
La discontinuité du tissu urbain est une caractéristique des villes paulistes de Marilia, São Carlos et Presidente Prudente. L'extension des tissus urbains de ces villes (sous des formes dispersées) est liée aux dynamiques inductrices de ce début de siècle et s'appuie sur des vecteurs tels le rôle des pouvoirs publics dans la production des habitations d'intérêt social et des investissements privés notamment dans l'implantation d'espaces de consommation destinés aux groupes à hauts revenus. On dispose des éléments nécessaires pour montrer comment les structures urbaines se configurent de manière plus complexe et comment les distances spatiales renforcent les distances sociales. Dans l'analyse, on fait attention notamment aux formes spatiales produites dans le but d'élargir le débat sur les rapports entre continuité territoriale et continuité spatiale en vue de montrer que la discontinuité territoriale n'est pas seulement politico-administrative, mais affecte la constitution des territoires urbains, qui sont les espaces de partage de l'expérience sociale.
Fichier principal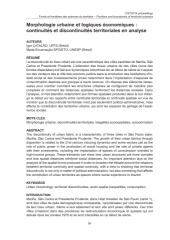 cist2014_morphologie_urbaine_et_logiques_economiques_continuites_et_discontinuites_territoriales.pdf (703.97 Ko)
Télécharger le fichier
Origin : Files produced by the author(s)