L'espace d'une vie : une cartographie des trajectoires individuelles à l'aide des méthodes d'analyse des réseaux sociaux
In this paper we propose to consider the notion of "life space" as a set of places and social practices that is conceptualized as a graph of relationships. We explore different modes of representation to visualize this complex space which involves several dimensions, scales and time frames. The objective of this work is to elaborate an analysis tool for comparing individual life spaces by combining the study of their morphology, the diversity of their spatial inscription and the nature and structure of space links social factors that give an overall coherence. From the exploitation of different survey data sets, this experience can be transposed to other types of biographical data, including those collected by historians working on personal data or prosopographies.
Nous proposons dans ce texte d'envisager la notion d'espace de vie comme une configuration de lieux et de pratiques sociales que l'on conceptualise sous la forme d'un graphe de relations. Nous avons imaginé différents modes de représentation pour visualiser cet espace complexe associant plusieurs dimensions, échelles et temporalités. L'objectif de ce travail est d'élaborer un outil d'analyse et de comparaison des espaces de vie en combinant l'étude de leur morphologie, la diversité de leur inscription dans l'espace géographique, ainsi que la nature et la structure des liens sociaux qui donnent sens à cet ensemble de lieux. Réalisée et mise au point à partir de l'exploitation de différentes enquêtes (INED, INSEE), cette expérience peut être transposée à d'autres types de données biographiques, notamment celles recueillies par les historiens travaillant sur des données nominatives ou des prosopographies.
Fichier principal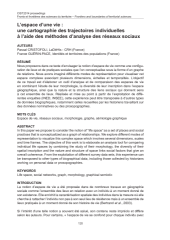 cist2014_espace_dune_vie_cartographie_trajectoires_individuelles_methodes_danalyse_reseaux_sociaux.pdf (771.23 Ko)
Télécharger le fichier
Origin : Files produced by the author(s)