L'image du Monde après la crise, à travers une analyse diachronique des préférences résidentielles par des étudiants turcs (2008-2013)
The world economic crisis is now seen as one of the major events in the past decade. The great post-soviet economic powers are challenged regarding their influence on the world geopolitical context. This observation is now an evidence for the little group of experts dealing with this issues (the G8 is replaced by the G20). But from the point of view of the population representations, are these countries losing their prestige? Regarding the consequences of the crisis in Greece for instance, is this country declining in the minds? We will present some original results coming from the treatment of two surveys conducted before and after the rising of the crisis (in winter 2008 and spring 2013), with 1,400 undergraduate students. In the specific case of Turkey, emerging power "at the gates of Europe", our issue is to know if the importance of Europe in minds is declining to the benefit of new attractive centres (BRICS). Furthermore, this diachronic analysis attempts to distinguish the structural elements from the short-term ones in the representations of the current world.
La crise économique mondiale est aujourd'hui considérée comme l'un des éléments marquants de cette dernière décennie. Les grandes puissances économiques de l'aire post-soviétique se sont trouvées ébranlées quant à leur place sur l'échiquier mondial. Cet état de fait semble désormais acquis (le G20 se substitue au G8, par exemple). Mais du point de vue des populations, ces grandes puissances sont-elles en phase de perdre de leur prestige ? Un pays tel que la Grèce a-t-il vu son image ternie par les affres de la crise économique ? Il sera ici question de présenter des résultats originaux issus de deux enquêtes menées en Turquie avant et après l'apparition de la crise (hiver 2008 et printemps 2013) auprès de 1 400 étudiants de licence. Dans le cas spécifique de la Turquie, puissance émergente située « aux portes de l'Europe », l'attractivité de l'Europe se trouve-t-elle diminuée dans les représentations mentales au bénéfice de nouveaux pôles d'attractivité (BRICS) ? Plus généralement, cette analyse diachronique tente de dissocier les éléments structurels et conjoncturels dans l'évolution des représentations du monde actuel.
Fichier principal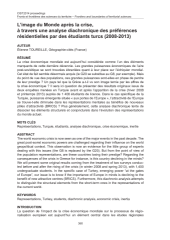 cist2014_image_du_monde_apres_crise_preferences_residentielles_etudiants_turcs_2008_2013.pdf (342.97 Ko)
Télécharger le fichier
Origin : Files produced by the author(s)