Modéliser les chaînes de déplacements : reconstruire la mobilité quotidienne à travers le prisme des déplacements secondaires
The evolution of mobility practices in France is directly linked to the evolution of the structure of cities. Urban sprawl and suburbanization have led individuals to adapt their mobility behavior. The bursting of the location of places of activity in the territory complicates the timetable organization of people. The traditional home-to-work is no longer a reference, the home losing its function as a "fallback" including meridian hours (Kaufmann, 2008). These daily journeys (Wiel, 1999) no longer have the same configuration. This disruption of mobility habits does not prevent the car to remain the indispensable condition for achieving several trips in a row. The restructuring in the organization of individuals commuting shows a relatively high propensity for chaining (Kieffer and Audard, 2013). Individuals then choose not to return home, but to continue their activities, making multiple stops along the trip chain for targeted reasons.
L'évolution des pratiques de mobilité en France est en lien direct avec l'évolution de la structure des villes. L'étalement urbain, la périurbanisation et la rurbanisation ont poussé les individus à adapter leurs comportements de mobilité. De plus, l'éclatement de la localisation des lieux d'activités sur les territoires complexifie l'organisation des emplois du temps des personnes. Le traditionnel domicile-travail n'est alors plus une référence, le domicile perdant sa fonction de lieu « de repli » notamment aux heures méridiennes (Kaufmann, 2008). Ces pérégrinations quotidiennes (Wiel, 1999) n'ont plus la même configuration. Ce bouleversement des habitudes de mobilité n'empêche pas la voiture de rester la condition indispensable pour réaliser plusieurs déplacements à la suite. La restructuration dans l'organisation des sorties des individus montrent une propension relativement importante au chaînage (Kieffer et Audard, 2013). Les individus choisissent alors de ne pas rentrer au domicile mais de poursuivre leurs activités, effectuant de multiples arrêts en cours de chaîne pour des motifs ciblés.
Fichier principal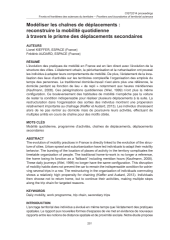 cist2014_modeliser_chaines_de_deplacements_mobilite_quotidienne_a_travers_deplacements_secondaires.pdf (301.57 Ko)
Télécharger le fichier
Origin : Files produced by the author(s)