Le territoire de l'ejido à l'épreuve de la transition énergétique : rapports de pouvoir autour du projet de production d'énergie éolienne à grande échelle dans la région du sud de l'Isthme de Tehuantepec, Mexique
In this paper, we will analyse how a local community authority called ejido, located in the Isthmus of Tehuantepec, Mexico, has changed following the installation of the widest wind parks of Latin America. The analysis will be made in the context of the new rural territoriality emerged from the series of political and legal reforms undertaken by the Mexican government since the 1990s to modernize rural areas. We will focus on the actions accomplished to weaken or destroy the social ownership of the land and remove the ejido as a political and administrative local authority, which have led to the weakening of the local dynamics of collective action, including the response capacity of communities against transnational private developers in charge of the wind farm project.
Dans cet exposé, nous analyserons la manière dont une institution territoriale collective dénommée ejido traverse un processus de transformation dérivé de la mise en route de l'ensemble de parcs éoliens le plus important d'Amérique latine dans la région de l'isthme de Tehuantepec, au Mexique. Nous élaborerons cette analyse dans le cadre de l'émergence d'une nouvelle territorialité rurale issue d'un ensemble de réformes politiques et juridiques que le gouvernement mexicain a mis en place dès les années 1990 afin de moderniser le secteur rural. Nous nous focaliserons en particulier sur les actions visant à affaiblir ou à détruire la propriété sociale de la terre et à faire disparaître l'ejido comme autorité politique et administrative. Ceci a conduit à la fragilisation des dynamiques locales d'action collective, dont notamment la capacité de réaction des communautés face aux développeurs privés transnationaux en charge du projet éolien.
Fichier principal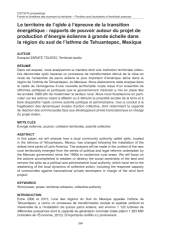 cist2014_territoire_ejido_et_transition_energetique_rapports_de_pouvoir_production_denergie_eolienne_sud_isthme_tehuantepec_mexique.pdf (590.43 Ko)
Télécharger le fichier
Origin : Files produced by the author(s)