Covoiturage et territoire : quelle(s) proximité (s) dans la mobilité ?
Carpooling, as other shared uses for travelling, is growing for both economical and ideological reasons. Firstly related to long journey, this growth is now concerning average distance trips, especially in suburban areas. Suburbs are known for being automobile-oriented territories, structured by a sole travel mode, considered responsible for their unsustainability, their lack of social cohesion and functional efficiency. After exploratory research on the spatiality of social relations involved in shared use of cars, we are showing that carpooling jointly queried social cohesion and spatial organisation made in mobility. Producing new social and spatial convergences, these shared practices also reflect a capacity to create social organisations to face suburban liveability problems. These new uses suggest the possibility of "living together with and by networks" that questions suburban territoriality.
Le covoiturage, comme d'autres modes de déplacement partagé, connaît un développement important, pour des raisons à la fois économiques et idéologiques. Concernant d'abord les trajets longue distance, cette croissance touche désormais ceux de moyenne distance, notamment au sein des espaces périurbains. Or ces espaces sont avant tout réputés pour les pratiques automobiles et individuelles qui les structurent, et ainsi mettent en cause leur durabilité, leur cohésion sociale et fonctionnelle. Suite à des recherches exploratoires sur la spatialité des rapports sociaux engagés dans les pratiques de co-déplacement, nous montrons que le covoiturage interroge conjointement la cohésion sociale et la structuration spatiale issue de la mobilité. Productrices de nouvelles convergences sociales et spatiales, ces pratiques témoignent d'une capacité d'organisation des acteurs sociaux face au problème de l'habiter périurbain. Elles suggèrent la possibilité d'un « vivre ensemble par et dans les réseaux » qui interpelle la question de la territorialité périurbaine.
Fichier principal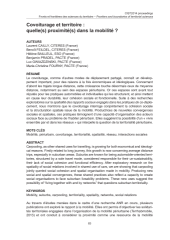 cist2014_covoiturage_et_territoire_quelles_proximites_dans_mobilite.pdf (206.01 Ko)
Télécharger le fichier
Origin : Files produced by the author(s)