Recomposition et dynamique des espaces de vie dans les régions métropolitaines : définir les centralités urbaines de la grande région grenobloise
We present the results of a research in geography funded by the Rhône-Alpes Region, within the ARC7 programme. The objective of this work is to offer an operational method to understand the organization of metropolitan areas. The study is based on an analysis of stocks and flows of people, incomes and travel structuring territories. The challenge is both to construct a renewed methodology and provide a representation of nodes and links that structure the spaces of large cities. It consists in studying the hierarchy, complementarity and dynamics of the various levels of urban centrality in urban areas. The cases studied and presented in this paper concerns Grenoble urban area. Several steps are proposed, including the identification of primary and secondary centers for work, shopping and leisure reasons, and the analysis of trends in the urban and peri-urban centralities, the links between the different areas of Grenoble region.
Cette communication présente les résultats d'un programme de recherche qui se déroule sur l'année 2013 et 2014. Il s'agit d'un projet financé par la région Rhône-Alpes dans le cadre de l'ARC7. L'objectif de ce travail est de proposer une lecture opérationnelle de l'organisation des espaces métropolitains sur la base de l'analyse des stocks et des flux de personnes, de revenus, de déplacements qui constituent ces territoires. L'enjeu est à la fois de construire une méthodologie renouvelée et d'offrir une représentation des noeuds et des liens qui structurent les espaces des grandes agglomérations. Il s'agit d'étudier la hiérarchisation, la complémentarité et la dynamique des différents niveaux de centralité urbaine au sein des agglomérations. Le cas étudié et présenté dans ce papier est celui de la région urbaine grenobloise. Plusieurs étapes sont proposées, parmi lesquelles l'identification des pôles principaux et secondaires pour des motifs de travail, d'achats et de loisirs ; l'analyse des évolutions de ces centralités urbaines et périurbaines ; les liens entre ces différents pôles de la région grenobloise.
Fichier principal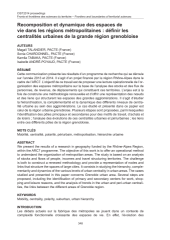 cist2014_recomposition_et_dynamique_espaces_de_vie_regions_metropolitaines_centralites_urbaines_grande_region_grenobloise.pdf (415.5 Ko)
Télécharger le fichier
Origin : Files produced by the author(s)