La gouvernance informationnelle, outil et enjeu stratégiques des recompositions territoriales : vers l'émergence de nouveaux référentiels géographiques ?
By facing unsettled and heterogeneous perimeters but at the same time by being obliged to lead concrete actions, new territories (i.e. large communities of municipalities) meet new and original needs in terms of "self-knowledge and representation". At the same time, national institutions which up to this time produced standard spatial and statistical data for supra-local levels are being challenged by various private stakeholders (from Google to thematic communities). This communication aims to question the paradigm change resulting from these mutations. It will specifically focus on the reference data set conceived as a balance and meeting point for territorial knowledge. As hybrid object, territorial reference data indeed intersect two both scientific and political issues: matching knowledge and action, legitimacy to "tell the territory".
Face à des périmètres mouvants et hétérogènes mais enjoints de penser et de conduire des actions concrètes, les nouveaux territoires (intercommunalités, SCoT...) sont confrontés à des besoins de connaissance et de représentation de soi dans des termes assez largement inédits. Parallèlement, les institutions qui avaient jusqu'alors conçu et fourni les données de référence aux échelles supra-locales sont désormais concurrencées ou contournées par des acteurs aux statuts, natures et motivations très diverses (de Google aux communautés locales ou thématiques). La communication se propose d'interroger le changement de paradigme induit par ces évolutions en s'attachant au point de rencontre et d'équilibre entre représentations du territoire que constituent les référentiels (cartographiques, statistiques...). Objet hybride, les référentiels croisent deux questionnements autant scientifique que politique : celui de l'adéquation entre connaissance et action, celui de la légitimité à dire le territoire.
Fichier principal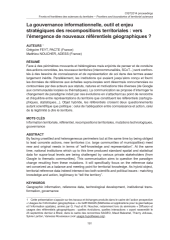 cist2014_gouvernance_informationnelle_outil_enjeu_strategiques_des_recompositions_territoriales_nouveaux_referentiels_geographiques.pdf (266.41 Ko)
Télécharger le fichier
Origin : Files produced by the author(s)