Energy networks and Regional Integration in South America
In the last decade, South American countries went through robust economic growth based on commodities exports, which implies a growing use of energy from various sources. They also had to face two main challenges: social and spatial inequality, as well as huge distance and low density. The first challenge means that governments must devise public policies in order to give specific energy solutions to vulnerable social groups. The second entails specific problems for land planning and the development of infrastructures. The relations between countries, within the political framework of UNASUR, have put energy in pivotal role to sustain economic growth and build regional integration. This paper shows that these programmes have obtained some results to provide cheap energy to large scale projects, but fail to give adequate answer to another set of social and geopolitical issues.
Dans la dernière décennie, les pays d'Amérique du Sud ont connu une croissance économique robuste fondée sur l'exportation de matières premières, ce qui implique une consommation croissante d'énergie provenant de différentes sources. Les États ont dû aussi faire face à deux défis : les inégalités sociales et territoriales ainsi que les grandes distances et les faibles densités de population. Le premier défi implique que les États doivent mettre en place des politiques publiques pour apporter des réponses spécifiques aux groupes sociaux vulnérables. Le second entraîne des problèmes particuliers d'aménagement du territoire et de construction d'infrastructures. Les relations entre États, dans le cadre politique de l'UNASUR, font jouer un rôle central à l'énergie pour soutenir la croissance et réaliser l'intégration régionale. Cet article montre que, si ces programmes ont apporté des solutions pour fournir de l'énergie bon marché à des grands programmes productifs, ils n'ont pas donné de solutions adéquates à une autre série de problèmes sociaux et géopolitiques.
Fichier principal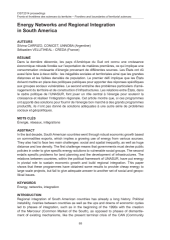 cist2014_energy_networks_and_regional_integration_in_south_america.pdf (212.28 Ko)
Télécharger le fichier
Origin : Files produced by the author(s)