Excellence « off-shore » ou territorialisée : comment évaluer l'empreinte locale des activités de recherche scientifique d'excellence en sciences de la mer
Academic excellence does not automatically induce a "local excellence", i.e. induced impacts and benefits on the territory up to this academic excellence: scientific research can indeed be totally or partially "off-shore", or on the contrary constitute a lever for local development or a basis in the construction of territories, through the effects of impacted perimeters, interactions and connections with neighbouring or distant territories on different scales. This paper offers a reflection on the issues and challenges related to the rating degree of "territorial anchoring" of these top-ranked research activities, based on the case of marine sciences in Western Brittany, especially in the territory of the urban community of Brest (France). To evaluate the positioning of this territory in terms of academic excellence, a comparative analysis was performed on a global scale, on 120 sites with one or more marine sciences research organizations.
L'excellence de la recherche – celle d'un organisme public, d'une institution – ne garantit pas automatiquement une « excellence territoriale », c'est-à-dire des impacts et retombées induits sur le territoire à la hauteur de cette « excellence académique » : la recherche scientifique peut en effet être totalement ou partiellement « off-shore », ou à l'inverse servir de levier de développement local ou de base dans la construction des territoires, par des effets de périmètres impactés, d'interactions et de connexions avec les territoires voisins ou éloignés, à différentes échelles. Cette communication propose une réflexion sur les enjeux et difficultés liés à l'évaluation de ce degré « d'ancrage territorial » des activités de recherche d'excellence, en se basant sur le cas du champ des sciences de la mer en Bretagne occidentale, et plus particulièrement sur le territoire de la communauté urbaine de Brest (France). Afin d'évaluer le positionnement de ce territoire en termes d'excellence académique, une analyse comparative a été réalisée à l'échelle mondiale, avec l'étude de 120 sites dotés d'un ou plusieurs organismes de recherche en sciences marines.
Fichier principal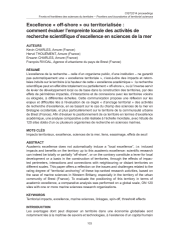 cist2014_excellence_offshore_ou_territorialisee_empreinte_locale_recherche_scientifique_dexcellence_sciences_la_mer.pdf (232.07 Ko)
Télécharger le fichier
Origin : Files produced by the author(s)