Territorial Cohesion Beyond State Territoriality
Territorial cohesion is a shared competence of the EU and its members. The discourse on territorial cohesion invokes a "Europe in balance", "Competitive Europe", "Green and Clean Europe" and a "Coherent EU Policy" story line, the latter being its unique selling point. However, as a shared competence, territorial cohesion is subject to the subsidiarity principle privileging nation states and "state territoriality". The underlying view of space is one of closed containers encased within larger ones. To this "territorial" view of space, the academic literature juxtaposes a "relational" one, seeking to reconcile the two. For territorial cohesion, this implies exploring a negotiated form of territoriality: "soft planning" for "soft spaces". What are the modes of operation of "soft planning" and what does this mean for EU territorial cohesion and maybe even for the EU as such?
La cohésion territoriale est une compétence partagée de l'UE et de ses membres. Le discours sur la cohésion territoriale invoque « une Europe équilibrée », « une Europe compétitive », « une Europe verte et propre », le scénario d'une « politique cohérente de l'UE », ce dernier point représentant son argument de vente unique. Cependant, en tant que compétence partagée, la cohésion territoriale est soumise au principe de subsidiarité favorisant les États-nations et « la territorialité d'état ». La perception sous-jacente de l'espace est celle de conteneurs fermés emballés dans de plus grands. À cette vision « territoriale » de l'espace, la littérature juxtapose une vision « relationnelle », cherchant à réconcilier les deux. Du point vue de la cohésion territoriale cela implique de réfléchir à une forme négociée de territorialité : « planification douce » pour « espaces doux ». Quels sont les modes opérationnels d'une « planification douce » et qu'est-ce que ça signifie pour la cohésion territoriale de l'Union européenne et peut-être même pour l'UE comme tel ?
Fichier principal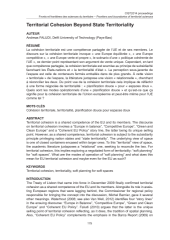 cist2014_territorial_cohesion_beyond_state_territoriality.pdf (203.24 Ko)
Télécharger le fichier
Origin : Files produced by the author(s)