Trajectoire géographique et territoire socio-résidentiel. L'apport de données contextuelles à une analyse longitudinale
The development of event history surveys has made it possible to analyse the residential trajectories of populations in geographical terms by collecting data on the various dwellings occupied by respondents, but few studies have focused on the way in which these trajectories evolve within a social space which either remains unchanged, deteriorates or improves. This socio-residential will be defined as a social characterization of municipalities from an indicator level using census datas from the year 1962 to 1999. It is so possible to define, the trajectories type (stable, upwards, downwards, complex). These trajectories will be analysed according to geographical origin, socio-occupational category and by place of residence at age 45. This analysis is based on data from the "Biographies et Entourage" (Event history and contact circle) survey conducted by INED in 2000. It is deliberately restricted to persons aged 30-45, who are in the process of forming a family and in the same time searching for residential stabilization.
Le développement des enquêtes biographiques a permis l'analyse des trajectoires résidentielles des populations en recueillant la description des différents logements occupés par les enquêtés et leurs localisations, mais peu d'études se sont intéressées à la cohérence de ces trajectoires dans un espace socio-résidentiel qui se conserve, se dégrade ou s'améliore au fil du temps. Cet espace socio-résidentiel sera défini comme une caractérisation sociale des communes à partir d'un indicateur du moment calculé à partir des différents recensements, de 1962 à 1999. Il est donc possible de définir le type de trajectoire suivie (stable, descendante, ascendante ou complexe). Ces trajectoires seront analysées selon l'origine géographique, la CSP et la localisation à 45 ans. Cette analyse a été effectuée à partir de l'enquête « Biographies et entourage » à l'INED en 2000. Elle se limite volontairement à la catégorie d'âge 30-45 ans, période de constitution de la famille et en même temps de recherche de stabilisation résidentielle.
Fichier principal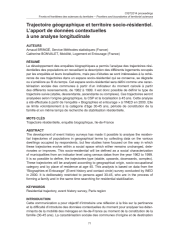 cist2014_trajectoire_geographique_et_territoire_socioresidentiel_apport_donne_es_contextuelles_a_analyse_longitudinale.pdf (234.12 Ko)
Télécharger le fichier
Origin : Files produced by the author(s)