Pratiques sociales de santé et identité territoriale des personnes âgées dans le Cantal
The ageing of the population is in Cantal a privileged indicator of the way health can impact space. It requires the long-term nursing (regular monitoring through visits or consultations that require moving the doctor or the patient) and the treatment of emergency issues, implying great mobility over large areas. We studied the interactions between an increasing ageing of the population, its health and its mobility. We sought to understand how the spatial dimension, which appears in Cantal to dominate the health and social dimensions, is expressed in the major health challenges of Cantal: is mobility, on a given life territory, the key to social networking and effective health-caring? This work allows us to better understand complex social and territorial constructions, showing that health inequalities do not come along a territory, but that in Cantal it is mobility that mould health.
Le vieillissement de la population est dans le Cantal un marqueur privilégié de l'inscription de la santé sur le territoire. Il nécessite la prise en charge de pathologies de longue durée (suivi régulier dans le cadre de visites ou de consultations qui demandent le déplacement du médecin ou du patient) et de pathologies aiguës (soins d'urgence) qui implique d'être mobile rapidement et sur de grands territoires. Nous nous sommes intéressés aux interactions entre vieillissement accentué de la population, son état de santé et sa mobilité. Nous avons cherché à comprendre comment la dimension spatiale, qui semble dans le Cantal prédominer aux dimensions sanitaires et sociales, s'exprime dans les principaux enjeux sanitaires du Cantal : la mobilité, sur un territoire de vie donné, est-elle la clé d'un réseau social et d'une prise en charge sanitaire efficace ? Ce travail permet de comprendre des constructions sanitaires et territoriales complexes, en montrant que les inégalités de santé ne se greffent pas sur un territoire, mais que c'est la mobilité qui crée la santé dans le Cantal.
Fichier principal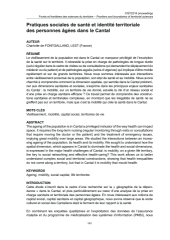 cist2014_pratiques_sociales_de_sante_et_identite_territoriale_des_personnes_agees_cantal.pdf (415.94 Ko)
Télécharger le fichier
Origin : Files produced by the author(s)