Cytise : une application web couplée à une base de données démographiques et socio-économiques des communes wallonnes
Cytise communes is a web application connected to a database that covers a set of demographic and socio-economic data, in spatial and chronological dimensions. Its main feature is to be a useful, user-friendly and user-oriented tool. The construction of the database is detailed and the different types of query are presented as well as some outputs produced by the application. Initially developed in response to a request for scientific support to policy-making, it has seen over time his audience growing beyond the scope of policy-makers (municipal and regional) to involve students, researchers, high school teachers and associations. The purpose of this communication is to present the content of this tool and to highlight its potential in the field of decision support.
Cytise communes est une application web connectée à une base de données qui couvre un ensemble de thèmes démographiques et socio-économiques, dans les dimensions spatiale et chronologique. Sa principale caractéristique est d'être un outil utile, convivial et orienté utilisateur. La construction de la base de données est détaillée et les différents types d'interrogations possibles sont présentés. Quelques exemples d'utilisation sont proposés. Développée initialement pour répondre à une demande d'appui scientifique à la prise de décision politique, elle a vu au fil du temps son audience déborder du cadre des décideurs politiques (communaux et régionaux) pour concerner aussi les étudiants, les chercheurs, les enseignants du secondaire et le monde associatif. L'objectif de cette communication est donc de présenter le contenu de cet outil et de mettre en évidence ses potentialités dans le domaine de l'aide à la décision.
Fichier principal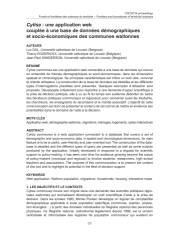 cist2014_cytise_application_web_et_bd_demographiques_et_socioeconomiques_communes_wallonnes.pdf (547.54 Ko)
Télécharger le fichier
Origin : Files produced by the author(s)