La « modernisation de l'action publique territoriale » en perspective européenne et transfrontalière
France has engaged since 2012 in a new legislative process of "modernization of territorial public action and affirmation of metropolises". This communication recalls the European conceptual framework of on-going discussions on the same topic (double evolution towards europeanisation and devolution, territorial capital and place-based cohesion policy, multilevel governance combining institutional and functional approaches), puts the French reform, which mixes the functional approach of " territorial conferences for public action" and an institutional approach for metropolises, in perspective of this European framework, and more specifically of German policies. Finally, it looks at the case of cross-border regions, the way they are addressed by the law, and gives some advice as to their governance.
La France s'est engagée depuis 2012 dans un nouveau processus législatif de « modernisation de l'action publique territoriale et d'affirmation des métropoles ». Cette communication rappelle le cadre conceptuel européen des discussions en cours sur le sujet (double mouvement d'européanisation et de décentralisation, politique de cohésion basée sur l'approche place-based et le capital territorial, gouvernance multi-niveaux combinant les types institutionnel et fonctionnel). Elle met en perspective de ce cadre européen, et plus particulièrement des politiques menées en Allemagne, la réforme française qui mixe approche fonctionnelle des « conférences territoriales de l'action publique » et approche institutionnelle pour les métropoles. Enfin, elle examine le cas des territoires transfrontaliers, la façon dont ils sont abordés par la loi, et donne quelques préconisations pour leur gouvernance.
Fichier principal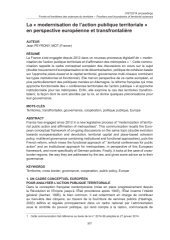 cist2014_modernisation_action_publique_territoriale_perspective_europe_enne_et_transfrontaliere.pdf (258.67 Ko)
Télécharger le fichier
Origin : Files produced by the author(s)