Les mobilités géographiques des salariés : le territoire est-il soluble dans la gestion des ressources humaines ?
As employee relocation is a deeply territorialised phenomenon, it involves their professional life as well as their private life. But managerial rhetoric and human resources management practices usually endeavour to minimize the territorial dimension of mobilities in order to avoid taking in consideration the many problems they raise. This de-territorialisation of mobilities by corporate HR managers is on the one hand balanced by the calling in of relocation support services providers. But on the other hand, this leads to let employers discard the fact that territories have to be taken into consideration. Ultimately, human resources management rhetoric and practices do not take full consideration of the role territories play in the proceeding of employee mobility. Territories are not soluble in mobility, and this reality principle should be better taken into consideration by human resources management practices.
Parce que les mobilités géographiques des salariés sont un phénomène profondément territorialisé, elles engagent leur vi professionnelle autant que leur vie personnelle et familiale. Mais la rhétorique managériale et les pratiques de gestion des ressources humaines s'emploient à euphémiser la dimension territoriale des mobilités pour ne pas avoir à intégrer les nombreux problèmes qu'elle soulève. Cette déterritorialisation des mobilités par les responsables RH en entreprise est compensée par l'appel à des sociétés d'accompagnement des salariés mobiles. Mais cela revient à dégager l'entreprise de la responsabilité de devoir prendre en compte les territoires. Au final, tant les discours que les pratiques en matière de gestion des ressources humaines ne prennent pas la mesure du rôle des territoires dans le déroulement des mobilités des salariés. Les territoires ne sont pas solubles dans les mobilités et cette réalité doit être intégrée aux pratiques de gestion des ressources humaines.
Fichier principal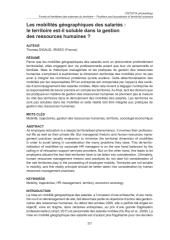 cist2014_mobilites_geographiques_salaries_territoire_soluble_dans_gestion_des_ressources_humaines.pdf (205.3 Ko)
Télécharger le fichier
Origin : Files produced by the author(s)