La prospective territoriale, une aventure interdisciplinaire : retour sur le projet « Estuaires à venir » (Centre Michel Serres)
The project "Estuaries to come" (Centre Michel Serres, HéSam –public institution for scientific cooperation) is based on an original interdisciplinary approach. Students in design, in planning, in economy, in history, in engineering sciences, in hydrology, and in computer science realized a study on the impact of climate changes on estuaries. This prospective study was conducted on behalf of an association involving the main political actors in the Seine estuary. This pedagogical experience allows to illustrate the two main contributions of interdisciplinarity: the improvement of scientific diagnoses and the experiment of new scientific methods. These methods are an innovative way to address some contemporary issues.The interdisciplinary project finally raises the question of the link between the scientific approach and the contribution of actors of the studied territory.
Le projet « Estuaires à venir » mené dans le cadre du Centre Michel Serres (PRES HéSam) constitue une aventure originale de rencontres entre des disciplines variées. En réponse à une commande d'une association d'élus, des étudiants en design, en aménagement, en économie, en histoire, en sciences de l'ingénieur, en hydrologie et en informatique ont réalisé une prospective territoriale sur les enjeux climatiques posés aux estuaires. Cette interdisciplinarité « en pratique » permet d'illustrer les deux apports principaux du croisement disciplinaire, la richesse des diagnostics scientifiques effectués d'une part et la construction et l'expérimentation de méthodes d'analyses nouvelles des enjeux territoriaux d'autre part. Ce projet interdisciplinaire pose enfin la question de la rencontre entre l'aventure scientifique (le territoire comme objet de connaissance) et la demande et la connaissance des acteurs du territoire étudié (le territoire comme action).
Fichier principal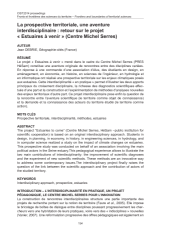 cist2014_prospective_territoriale_aventure_interdisciplinaire_projet_estuaires_a_venir.pdf (320.4 Ko)
Télécharger le fichier
Origin : Files produced by the author(s)