Arabie Saoudite et Qatar en Égypte : concurrence géoéconomique et stratégie commerciale pour le contrôle du territoire égyptien
Since the events of January 25th, 2011, Qatar and Saudi Arabia are taking advantage of the problematic situation related to Egypt economical and political stability. The two countries try to export their ambitions of regional power. Financing the different governments following the revolutionary movements is a way to control Egyptian political evolution, to strenghthen their regional influences, to increase their possibilities to make profit in the long term, and to slow down the contagion of revolutions in the Middle East. This involves controlling Egyptian territory by participating in its governance through the export of capital. To make this influence effective, both Gulf monarchies have established a diplomatic strategy based on the use of radical Sunni Islam as a unifying factor, on financing the various regimes and on maintaining Egyptian economy under conditions.
Depuis les événements du 25 janvier 2011, le Qatar et l'Arabie saoudite profitent de la situation problématique concernant la stabilité économique et politique égyptienne pour y exporter leurs ambitions de puissances régionales. Financer les différents régimes au pouvoir après les mouvements révolutionnaires de 2011 leur permet de contrôler les évolutions politiques égyptiennes, de renforcer leur influence régionale, d'augmenter leurs possibilités de faire du profit sur le long terme et de freiner, dans une moindre mesure, la contagion des soulèvements révolutionnaires au Moyen-Orient. Il s'agit ici de contrôler le territoire égyptien en participant à sa gouvernance grâce à l'exportation de capitaux. Pour rendre cette influence efficace, les deux monarchies du Golfe ont mis en place une stratégie diplomatique basée sur l'utilisation de l'islam sunnite radical comme facteur d'unité, sur le financement des différents régimes et sur le maintien sous conditions de l'économie égyptienne.
Fichier principal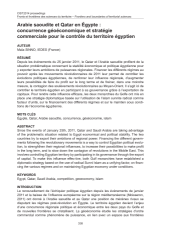 cist2014_arabie_saoudite_et_qatar_concurrence_geoeconomique_et_strategie_commerciale_pour_controle_territoire_egyptien.pdf (204.06 Ko)
Télécharger le fichier
Origin : Files produced by the author(s)