Les données de télédétection dans la gestion des risques et des désastres en Haïti : la difficile rencontre entre expertise exogène et savoirs locaux
Space Agencies cooperate at an international level in order to use satellite capacities in disaster for emergency management during the response. In 2010, after the earthquake of January 12th, CNES was involved as part of the International charter space and major disasters and KAL-Haïti Database. From emergency to local risk management, the gap requires to overlap many organisational, institutional, political and cultural issues. Three years later, cooperation, and especially with the university, looks like giving empowerment to local workers and students in risk management.
Des accords de coopération entre agences spatiales rendent possible la mobilisation des satellites pour la production d'informations utiles pour l'intervention d'urgence en situation de catastrophes. Les travaux réalisés par le Centre national d'études spatiales dans le cadre de la Charte internationale Espace et catastrophes majeures, d'une part, et de la base de données pour la reconstruction KAL-Haïti d'autre part, à la suite du tremblement de terre du 12 janvier 2010 à Haïti, révèlent la complexité des conditions à réunir pour que des données de télédétection deviennent des ressources dans un système local de gestion des risques et des désastres. Les bénéfices potentiels sont en effet limités par des difficultés organisationnelles, institutionnelles, géopolitiques et culturelles. Le retour d'expériences oriente vers le développement de coopérations avec l'université.
Fichier principal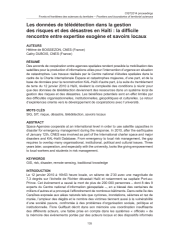 cist2014_haiti_donnees_teledetection_dans_gestion_des_risques_et_desastres_rencontre_expertise_exogene_et_savoirs_locaux.pdf (437.59 Ko)
Télécharger le fichier
Origin : Files produced by the author(s)