Promouvoir les territoires : un problème d'échelle
Conducting research in management related to territorial development interests the professional community including policy makers and stakeholders of the territory. However, the multiplicity of stakeholders in this development highlights a difficulty related to the aporetic nature of the definition of the territory, in this case the appropriate level to implement actions of place management. This paper aims to understand how to consider this scaling problem in analyzing the consumption of territory. To do this, it focuses on the need to rely on a mesosocial scale suitable to overcome the pitfalls that lead to some strict micro-geographical account of individuals in space. This approach enables to move towards the portability of traditional marketing tools to territorial development and to provide modestly to building the field of territorial sciences.
Mener une recherche en sciences de gestion afférente au développement territorial présente des intérêts pour la communauté professionnelle dont les décideurs publics et les divers acteurs du territoire. Cependant, la multiplicité des parties prenantes à ce développement met en exergue une difficulté liée au caractère aporétique de la définition du territoire, en l'espèce la nature de l'échelle appropriée pour mettre en oeuvre des actions de marketing territorial. Cette communication se propose de montrer comment se pose ce problème d'échelle en matière d'analyse de la consommation de territoire. Pour ce faire, elle met l'accent sur la nécessité de s'appuyer sur une échelle méso-sociale propre à dépasser les écueils vers lesquels conduit notamment une stricte considération micro-géographique des individus dans l'espace. Cet angle permet de tenter d'avancer vers une portabilité des outils traditionnels du marketing au développement territorial et d'apporter modestement une pierre à l'édification du champ des sciences du territoire.
Fichier principal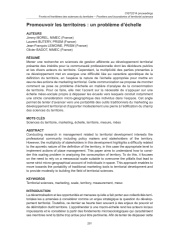 cist2014_promouvoir_les_territoires_un_probleme_dechelle.pdf (254.26 Ko)
Télécharger le fichier
Origin : Files produced by the author(s)