Making the Neighbourhood Relevant. A Study on How Events Territorialise their Outcomes
Shifting and multi-level territories are not only generated by the mobility of capital and companies. Non-profit, community-based, groups increasingly adopt forms of action, such as the setting up of events, that directly question the taken-for-granted relation between spatial distance and social proximity. In this paper I focus on non-profit groups' use of events as space infrastructures to make the neighbourhood relevant for the development of social ties and, thus, for the enhancement of local social inclusion. In order to account for the variety of outcomes produced by this strategy, three cases are introduced to show that the observed outcomes derive from the type of territorialisation process through which events develop and from the associated level of territorial complexity. This paper introduces a territorological approach useful to specify the different shapes that similar temporary claiming of space may take and to analyse the link between territorialisation forms and the deriving outcomes.
Les territoires changeants et multiscalaires ne sont pas seulement générés par le capital et les entreprises. Des organisations à but non lucratif, communautés locales, adoptent de plus en plus des formes d'action comme l'organisation d'événements, ce qui questionne les relations entre distance spatiale et proximité sociale. Dans cette communication, je me concentre sur l'utilisation, par ces organisations, des événements qu'elles organisent comme bases visant à rendre le voisinage actif dans le développement du lien social et, de fait, dans l'amélioration de l'intégration sociale au niveau local. Pour rendre compte de la variété des conséquences, trois cas sont présentés qui soulignent que ces résultats dérivent à la fois du type de processus de territorialisation par lequel les événements se développent et du niveau de complexité territoriale. Cet article introduit une approche utile pour spécifier les formes que peuvent prendre des revendications de l'espace local et pour analyser le lien entre des formes de territorialisation et les conséquences qui en découlent.
Fichier principal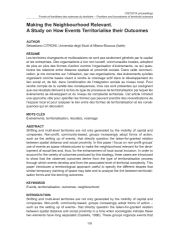 cist2014_making_the_neighbourhood_relevant_how_events_territorialise_their_outcomes.pdf (179.65 Ko)
Télécharger le fichier
Origin : Files produced by the author(s)