Le rôle des acteurs supranationaux, nationaux et locaux dans la construction des espaces transnationaux de la Région du Grand Mékong et du détroit de Malacca : étude comparative
The aim of this panel is to present and discuss the main results of a research programme entitled Transiter: The Greater Mekong Subregion and Malacca Straits economic corridors. The subregions of South-East Asia involve various actors intervening at different levels: translational, national or local. The myriad of actors involved raise many questions which deserve to be examined in turn. The first question concerns the State's new position: is the State overwhelmed by these flows weaving a network of new territories going beyond the national context, or can it still take the initiative? The second concerns governance: have the new forms of transnational management accompanied the creation of these subregions? The third, which is dependent on the second, questions the connection between the strategies and skills of the different actors: complementarities, indifference or rivalry? The final question wonders whether different degrees of involvement arise between actors in the two subregions, mainland and maritime.
L'objectif de cette communication est de présenter et de discuter les résultats d'une recherche collective, le programme Transiter Asie du Sud-Est sur les corridors de la Région du Grand Mékong (GMS) et du détroit de Malacca. Ces régions transnationales impliquent des acteurs qui agissent à des échelles différentes : transnationales, nationales ou locales. De cette multitude d'acteurs impliqués, plusieurs questions se posent. La première questionne le nouveau positionnement de l'État : l'État est-il débordé par ces flux qui trament de nouveaux territoires dépassant le cadre national ou parvient-il à garder l'initiative ? La seconde concerne la gouvernance : de nouvelles formes de gestion transnationales ont-elles accompagné la mise en place de ces régions transnationales ? La troisième s'interroge sur l'articulation des stratégies et des compétences des différents acteurs : complémentarités, indifférences ou concurrences ? La dernière se demande s'il existe une différence d'implication des différents acteurs entre la partie continentale et maritime de l'Asie du Sud-Est.
Fichier principal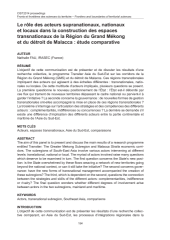 cist2014_acteurs_dans_construction_espaces_transnationaux_region_grand_mekong_detroit_malacca.pdf (817.46 Ko)
Télécharger le fichier
Origin : Files produced by the author(s)