Authenticité et hyperréalité : expérience touristique et fragmentation de l'espace dans le territoire de Macao
Focused on a case study in Macao, this paper aims to interpret the complex relations between the processes of construction/negotiation of cultural identities, the processes of touristification and those of the transformation of the territory. In the wake of the reintegration of Macao in the Popular Republic of China's political sphere, several mechanisms of objectification and commoditization of cultural elements constitutive of Macaoians' identity –the Eurasian community of Macao– were set in place to give birth, simultaneously, to a new cultural identity of the territory and to a branding positioned within the global touristic market. The cultural dynamics associated with tourism combine representations that pertain to the concepts of authenticity and hyperreality. The urban territories that became touristic sites are themselves often shaped by these two concepts. This is what I will try to demonstrate in the case of Macao.
Focalisé sur l'étude de cas de Macao, cette communication essaie d'interpréter les relations complexes qui s'établissent entre les processus de construction/négociation des identités culturelles, les processus de touristification et les processus de transformation du territoire. Après la réintégration de Macao dans l'espace politique de la République populaire de Chine, des mécanismes d'objectification et de marchandisation d'éléments culturels constitutifs de l'identité ethnique des Macanéens – la communauté eurasiatique de Macao – ont été mis en oeuvre pour donner naissance, en même temps, à une nouvelle identité culturelle du territoire et à une image de marque (branding) qui le place à l'intérieur du marché touristique global. Les dynamiques culturelles associées au tourisme intègrent des représentations qui convoquent, très souvent, les concepts d'authenticité et d'hyperréalité. Les territoires urbains devenus des pôles touristiques sont eux aussi souvent marqués par ces deux concepts. C'est, comme j'essaierai de montrer, le cas de Macao.
Fichier principal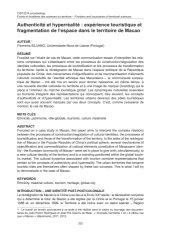 cist2014_authenticite_et_hyperrealite_experience_touristique_et_fragmentation_espace_territoire_de_macao.pdf (239.01 Ko)
Télécharger le fichier
Origin : Files produced by the author(s)