A Territorological Study of Time-Space Production at Stortorget, Malmö 1977-2013
In recent years, we have seen the development of a more relational approach to territoriality. This perspective, which focuses on events rather than space, also opens up for an elaboration of temporal aspects of territorial production. In this study, I investigate the central urban square, Stortorget, in Malmö, Sweden, in order to develop a discussion of urban time-space territorology. In 1978, Korosec-Serfaty performed a thorough study of the square, observing its everyday activities. The present study compares territorial productions at Malmö's Main Square during the 1970s to those of today. The results of the study indicate a change of time-space production in which temporary territorial appropriations and tactics tend to become shorter in duration, whereas the number of temporary and large-scale territorial strategies has increased and the role of these become more important. It also suggests the need to approach the use of public space as a relational and interdependent system rather than as the generic bilateral relations of materialities and social activities.
Nous avons assisté, ces dernières années, au développement d'une approche plus relationnelle de la territorialité. Cette perspective, qui se concentre sur les événements plutôt que sur l'espace, permet aussi d'ouvrir vers une élaboration des aspects temporels de la production territoriale. Dans cette étude, j'enquête sur la place centrale, Stortorget, à Malmö, Suède, dans le but de développer une discussion sur territorologie urbaine spatio-temporelle. En 1978, Korosec-Serfaty a exécuté une étude précise de la place, observant ses activités quotidiennes. Notre étude compare les productions territoriales sur la place centrale de Malmö de 1970 à celles d'aujourd'hui. Les résultats indiquent une modification de la production spatio-temporelle dans laquelle la durée des appropriations et tactiques territoriales temporaires a tendance à se raccourcir, alors que le nombre de stratégies territoriales temporaires et à grande échelle augmente et que leur rôle devient plus important. Elle souligne également le besoin d'approcher l'usage de l'espace public comme un système relationnel et interdépendant plutôt que comme des relations bilatérales génériques entre échanges matériels et activités sociales.
Fichier principal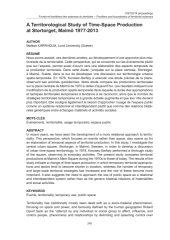 cist2014_territorological_study_of_time_space_production_stortorget_malmo_1977_2013.pdf (300.45 Ko)
Télécharger le fichier
Origin : Files produced by the author(s)