Du cluster portuaire au système portuaire régional : des territoires structurés par la gestion des flux de marchandises
The paper aims to reveal a relatively unknown part of the global movement of goods: the role of the port cluster in port transit of goods. We hypothesize that the port area has a dual conversion function of the flow of goods. Massified maritime traffic having a random character are converted into atomized flow to be regulated to meet the requirements of terrestrial industry organizations (the just in time) or retail activities. This dual function involves both community and technicist components of the port. In the same time port witnesses a transformation of its spatial organisation as a local zonal form to a reticular form at a regional scale. From this point of view, the article opens up research opportunities on the possibilities of integration of a singular space, the Seine axis, which combines a sea interface and a metropolitan interface, both being weakly connected.
La communication se propose d'éclairer un volet relativement méconnu de la circulation mondiale des marchandises portant sur le rôle du cluster portuaire dans le passage portuaire de la marchandise. Nous posons comme hypothèse que la place portuaire joue un double rôle de convertisseur de flux : des flux maritimes massifiés ayant un caractère aléatoire sont convertis en flux atomisés mais qui doivent être régulés pour répondre aux exigences des organisations terrestres de l'industrie (le juste-à-temps) ou de la grande distribution. Cette double fonction fait appel aux deux composantes communautaires et technicistes de la place portuaire. Parallèlement le port voit se transformer son organisation spatiale d'une forme zonale locale vers une forme réticulaire à l'échelle régionale. Partant de ce point de vue, l'article ouvre des perspectives de recherche sur les possibilités d'intégration d'un espace singulier, l'axe Seine, qui associe une interface maritime et une interface métropolitaine faiblement connectées.
Fichier principal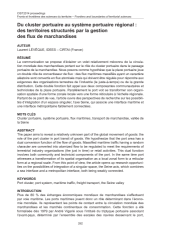 cist2014_systeme_portuaire_regional_territoires_structures_par_gestion_des_flux_de_marchandises.pdf (549.16 Ko)
Télécharger le fichier
Origin : Files produced by the author(s)