Patrimonialisation et territorialisation dans la nouvelle étape du capitalisme : le cas de Plaine Commune
This paper analyses the generalized territorialisation of heritage not only as a result of extensions of the concept of heritage, but also as an indicator of a new relationship with space in the new stage of capitalism. From the case study of Plaine Commune, intermunicipal Northern suburbs of Paris in post-industrial conversion, heritage and tourism development, it shows that increasing heritagization of places serves the creation of places by heritage, in order to compensate, to regulate or to fit into the new stage of globalization. It stresses that dynamics of territorialisation maintain a dialectical relationship with dynamics of deterritorialisation, often associated with globalization. At first, the paper presents the dialectic of deterritorialisation and territorialisation in a post-industrial suburb. Then it examines the role of heritage and tourism development in this process.
Cette communication propose d'analyser la territorialisation généralisée du patrimoine non seulement comme une conséquence des extensions de la notion de patrimoine, mais surtout comme un indicateur d'un nouveau rapport à l'espace caractéristique de la nouvelle étape du capitalisme. À partir de l'étude du cas de Plaine Commune, intercommunalité de la banlieue nord de Paris en cours de reconversion post-industrielle, de patrimonialisation et de mise en tourisme, elle montre que la patrimonialisation croissante des territoires sert une territorialisation par le patrimoine, destinée à compenser, à réguler la nouvelle étape de mondialisation ou à s'y insérer. Elle souligne que les dynamiques de territorialisation entretiennent une relation dialectique avec les dynamiques de déterritorialisation auxquelles la globalisation se trouve souvent associée. Dans un premier temps, la contribution présente la dialectique de la déterritorialisation et de la territorialisation dans une banlieue post-industrielle. Puis, elle examine le rôle de la patrimonialisation et de la mise en tourisme dans ce processus.
Fichier principal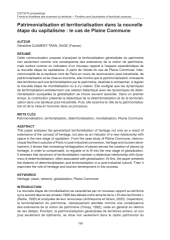 cist2014_patrimonialisation_et_territorialisation_nouvelle_etape_du_capitalisme_plaine_commune.pdf (648.07 Ko)
Télécharger le fichier
Origin : Files produced by the author(s)