Pour l'Euro, l'heure du bilan a sonné. Quinze leçons et six conclusions
Euro : the time of reassessing it has come (Fifteen lessons and six conclusions) The Eurozone is clearly in a time of crisis. However the liquidity crisis it is facing now, for all its urgency, is just the result of a deeper and longer internal competitiveness one. This crisis has been the result of making a monetary union before and without building a federal state. But building a federal state is at best a long and probably painful undertaking, whose success is not guaranteed. As a result the deepening of the crisis has been tremendous in the last months. One solution now seen is the so-called " federalist jump " but this describe actually only making federal rules on expenditures and not sharing the revenue side. It is not to work both for political and economic reason. We survey also the potential issue of an asymmetric German inflation and found it a non-starter. This is letting the Eurozone only with wage-deflation policies, which are reminiscent of deflationary policies implemented in the early 30's with disastrous effect. In this situation the only sensible solution looks to be a coordinated dismantling of the Eurozone.
La zone Euro est aujourd'hui clairement en crise. Cependant, la crise de liquidité qu'elle subit actuellement, pour dangereuse qu'elle soit et pour toute son urgence, n'est que le résultat d'une crise de compétitivité à la fois plus profonde et plus longue. Cette crise provient de la constitution d'une Union Monétaire avant que ne soit constitué un État fédéral. Mais cette construction d'un état fédéral est au mieux un processus long et douloureux, dont le succès est tout sauf garanti. Il en résulte que l'approfondissement de la crise ces derniers mois a été spectaculaire. Une solution actuellement envisagée est le soi-disant " saut fédéral ", mais ceci ne décrit en fait que des règles communes encadrant le volet " dépense " des budgets et non une mise en commun des recettes. Ce saut fédéral est condamné à l'échec pour des raisons tant politiques qu'économiques. On a pris en considération aussi la perspective d'une inflation différentielle de l'Allemagne et nous concluons que c'est un projet mort-né. Ceci ne laisse à la Zone Euro que des politiques de déflation salariale qui ne sont en réalité que l'équivalent des politiques de déflation du début des années trente, dont les conséquences furent catastrophiques. Dans cette situation, la seule option raisonnable reste le démontage coordonné de la zone Euro.
Fichier principal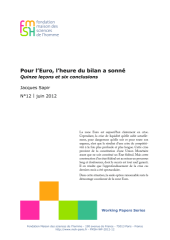 FMSH-WP-2012-12_Sapir1.pdf (1006.68 Ko)
Télécharger le fichier
Origin : Explicit agreement for this submission