Redéfinir le progrès à la lumière de la crise écologique
This paper presents the main arguments from the inaugural lecture delivered at the opening of the chair "Ecological Reconversion, Work, Employment and Social Policies", established at the Collège d'Etudes Mondiales set up by the Foundation Maison des Sciences de l'Homme, Paris, in cooperation with the University Paris-Dauphine. Even though social and human sciences are reluctant to use the paradigms set up by natural sciences --be they research hypotheses or research results-- they have to answer the challenge of addressing the radical transformations natural sciences unravel. First, they have to understand how human beings have become a genuine geological agent able to destroy what makes the planet a place to live. Second, they have to ask if we can trust traditional disciplines to draw the scheme of the world we want. Third, they should contribute to the solutions to what is much more than just another crisis. The paper underlines why production has become the main expression of our societies, which have made GDP indicators their foremost criteria. It finally defines what is at stake in developing new ways to address the question of what really matters.
Le texte constitue un extrait de la conférence inaugurale de la Chaire " Reconversion écologique, travail, emploi, politiques sociales " du Collège d'études mondiales, mise en place par la Fondation Maison des sciences de l'homme en coopération avec l'Université Paris Dauphine. Même si elles n'aiment pas dépendre des hypothèses ou des résultats de recherche des sciences de la Nature, les sciences humaines et sociales sont aujourd'hui mises au défi de penser les transformations radicales que nous révèlent celles-ci : d'abord pour comprendre comment l'homme a pu se muer en véritable agent géologique capable de détruire le caractère habitable de la planète, ensuite pour savoir dans quelle mesure nous pouvons faire confiance aux disciplines traditionnelles pour dessiner les contours du monde que nous voulons, enfin pour éclairer les voies de résolution de ce qui est bien plus qu'une crise. Le texte revient sur les raisons qui ont fait de la production le principal lieu d'expression de nos sociétés et du Produit Intérieur Brut leur principal critère de performance avant de s'interroger sur les enjeux du développement d'autres manières de représenter " ce qui compte ".
Fichier principal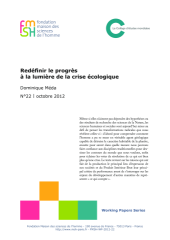 FMSH-WP-2012-22_Meda.pdf (180.34 Ko)
Télécharger le fichier
Origin : Files produced by the author(s)