Some Aspects of External Dimensions of Indian Economy in the Age of Globalisation
External dimensions of Indian economy in the age of globalisation are viewed in this paper in terms of unabated opening up of the economy with respect to both trade and foreign capital flows. This paper empirically shows that with more opening up of the economy there is more and more transfer of financial resources abroad from the Indian economy. So opening up through neoliberal globalisation is a ploy of global capitalism to extract super duper surplus from India. Analytically also the paper makes an attempt to negate the recent policy reforms (as is imminent in allowing FDI in multi-brand retail, aviations and insurance and in relentless efforts of the Government in slashing down fiscal deficit) as anti-growth and more attuned to the interests of global finance and capital.
Les dimensions extérieures de l'économie indienne à l'heure de la mondialisation sont analysées dans le cadre de l'ouverture continue de l'économie dans le domaine des échanges commerciaux et des flux de capitaux. Cette étude montre qu'avec cette ouverture, les transferts de ressources financières de l'économie indienne à l'étranger ne cessent de croître. La mondialisation libérale est ainsi une manière pour le capitalisme global d'extraire un surplus de l'Inde. L'analyse indique également que la politique de réforme du gouvernement indien (illustrée par l'ouverture des secteurs de la grande distribution, du transport aérien et de l'assurance aux capitaux étrangers ainsi que par l'effort mis sur la réduction du déficit fiscal) ne sert pas la croissance mais plutôt les intérêts de la finance globale et du capital.
Fichier principal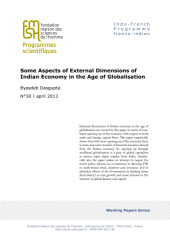 FMSH-WP-2013-30_DasGupta1.pdf (425 Ko)
Télécharger le fichier
Origin : Files produced by the author(s)