Financialization, Labour Market Flexibility, Global Crisis and New Imperialism - A Marxist Perspective
Financialization refers to the over-arching presence of the interest of global finance in every sphere of economic life - be it real or financial. Neo-liberalism, globalisation and financialization are three distinct yet mutually inter-related processes which at the present time are furthering the cause of global capitalism world over. The labour ultimately remains the risk-bearing factor in all these processes, which is obvious in terms of flexible labour regime. There is, on the one hand, de-regulation of finance and on the other, re-regulation of labour (through labour flexibility); and to our understanding global finance and its circuits of operation cannot be sustained without this flexible labour regime which ensures more and more transfer of surplus in the direction of finance. Global crisis is inherent in these processes of neoliberal globalisation and financialization through which present day global capitalism wants to thrive. So, an alternative needs to be sought in a pro-labour regime which would negate both financialization and neo-liberal globalization.
La "financialisation" est un processus qui suppose la suprématie de l'intérêt financier dans toutes les sphère de la vie économique. La finance n'a désormais plus aucun rapport avec l'activité économique réelle; elle a perdu son rôle traditionnel qui était de faire marcher l'économie réelle en servant de pont entre déficit et surplus. Mais la financialisation se nourrit de la flexibilité de travail qui aide à faire passer le surplus accumulé dans le secteur réel vers le secteur financier. Elle est elle-même est un processus "marchant à la dette", sur lequel se développent les circuits financiers. La crise globale est une réponse systémique au processus de financialisation, qui vit récemment les circuits financiers s'effondrer comme des château de cartes. Le système économique d'aujourd'hui est celui de la domination de l'économie globale par la finance telle que celle-ci fonctionne désormais dans le cadre de la financialisation. L'auteur analyse ici les rapports entre financialisation et flexilibilité du marché du travail et, en conséquence entre financialisation et crise globale.
Fichier principal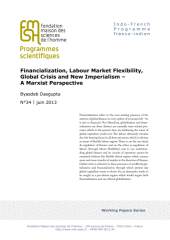 FMSH-WP-2013-34_Dasgupta2.pdf (410.35 Ko)
Télécharger le fichier
Origin : Files produced by the author(s)