Les économies émergentes, le plongeon ?
This article is about the heterogeneity of "emerging economies" and their different development processes, followed by the analysis of the new international division of labor emerging with their boom, the strong growth and the rapid pace of industrialization of several Asian countries, the moderate growth in Latin America and its early deindustrialization, the trends in wages and working conditions, the trends in poverty together with the increase in middle classes, and finally we conclude with questions concerning the future of these economies. Are emerging economies on the verge of encountering significant economic problems? Are the growth and export rates reduction in China, the slowing down of growth and the return of external constraints in many Latin American countries the first signs of these difficulties?
Cet article traite de l'hétérogénéité des " économies émergentes " et de leurs modes différents de développement, puis analyse successivement la nouvelle division internationale du travail qui apparait avec leur essor, la forte croissance et l'industrialisation rapide de plusieurs pays asiatiques, la croissance modérée de l'Amérique latine et sa désindustrialisation précoce, l'évolution des salaires et des conditions de travail, puis l'évolution de la pauvreté et le poids croissant des classes moyennes, et enfin, dans la conclusion nous nous interrogerons sur les futurs possibles de ces économies. Les économies émergentes sont-elles à la veille de difficultés économiques importantes ? La réduction du taux de croissance et des exportations de la Chine et de l'Inde, le ralentissement de la croissance et le retour de la contrainte externe dans de nombreux pays latino-américains en sont-ils les premiers signes ?
Fichier principal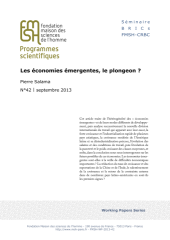 FMSH-WP-2013-42_Salama2.pdf (962.25 Ko)
Télécharger le fichier
Origin : Files produced by the author(s)