Pour une typologie des objets de l'exil
Studies related to migratory movements have until now given little attention to objects despite the fact they are the only tangible traces of contemporary intense human circulation. However, objects of exile are not merely objects of migration. Organised according to a principle of coexistence, objects of exile include artefacts and literary or artistic representations and address issues of time, space and multiple identity. This paper aims at sketching a material cultural of exile and at drawing an initial typology according to three main criteria: the unstable condition of the exiled subject; the linkage between materialness and immaterialness; the transformation of uses and practices.
Les études sur le phénomène migratoire ont jusqu'à présent accordé peu de place à l'étude des objets, pourtant seules traces tangibles de l'hypermobilité contemporaine. Mais les objets de l'exil ne sont pas réductibles aux objets de la migration. Articulés par la notion de coexistence, les objets de l'exil intègrent artefacts et représentations (littéraires, artistiques), espaces, temporalités et identités multiples. Cette contribution propose de définir une culture matérielle de l'exil et d'en dresser une première typologie autour de trois critères principaux : l'état instable du sujet en exil, l'emboitement matériel/immatériel, la métamorphose des usages.
Fichier principal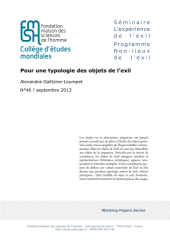 FMSH-WP-2013-46_Galitzine.pdf (597.21 Ko)
Télécharger le fichier
Origin : Files produced by the author(s)