L'écriture de l'exil et l'hypothèse du Marrane (Kafka, Benjamin, Derrida et au-delà)
The representation of exile does not erase its pain, but initiates a movement of introspection of the subject. Exile is in excess on its representation, it lacks a ground for its writing, a void we will analyze through four ellipses: 1/ The exile of exile with regard to the German Jewish writers who, according to Kafka, could neither write nor not write; 2/ The transcendental exile of the living and the dead for Benjamin which requires a totally different writing of history; 3/ The former exile that is the circumcision of language according to Derrida, to which answers the reaffirmation of the body and the name, of the sex and the signature; 4/ The Judeo-Christian Marrano as imaginary figure of secret exile, to which can only answer a memory of immemoriality.
La représentation de l'exil n'efface pas sa douleur, mais initie un mouvement de retour sur soi du sujet. L'exil est en excès sur la représentation, il lui faut une écriture sans appui que nous recherchons ici à travers quatre ellipses: 1/ l'exil de l'exil des écrivains juifs allemands chez Kafka, qui ne peuvent ni écrire, ni ne pas écrire. 2/ L'exil transcendental des vivants et des morts pour Benjamin qui appelle une tout autre écriture de l'histoire. 3/ L'exil antérieur de la circoncision de la langue chez Derrida, à laquelle répond la réaffirmation du corps et du nom, du sexe et de la signature. 4/ Le double exil judéo-chrétien des marranes comme figure imaginaire du secret de l'exil, auquel ne peut répondre qu'une mémoire de l'immémorial.
Fichier principal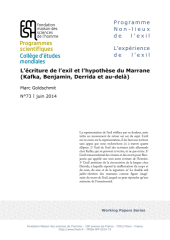 FMSH-WP-2014-73_Goldschmit.pdf (623.75 Ko)
Télécharger le fichier
Origin : Files produced by the author(s)