Le séjour de don Pedro 1er à Paris et la presse française (1831/1832)
Peter I's sojourn in Paris and the French press (1831/1832) Following a liberal revolution that defended greater respect for the Constitution, Brazilian Emperor Peter I was forced to abdicate on April 7, 1831. He arrived in Paris during the celebrations for the first anniversary of the 1830 French Revolution and was welcomed as a liberal hero returning to Europe to restore constitutionalism in Portugal where absolutism prevailed under his brother, Michael I. During his sojourn in Paris (1831/1832), Peter was a constant presence in both the liberal and the legitimist press. This paper analyzes the French media's reception to Peter and his military campaign against his brother with particular attention to the images of Brazil and Portugal.
Forcé d'abdiquer (le 7 avril 1831) après une révolution libérale qui exigeait de lui un plus grand respect de la Constitution, l'ancien empereur du Brésil, don Pedro 1er, arrive en France au moment du premier anniversaire de la Révolution de 1830. Il y est accueilli comme un héros libéral venu rétablir le constitutionnalisme au Portugal, où règne le pouvoir absolutiste de son frère don Miguel 1er. Pendant son séjour à Paris (1831/1832), don Pedro a été constamment l'objet d'articles dans la presse aussi bien libérale que légitimiste. Cet article analyse l'accueil réservé par les médias au personnage et à son expédition qui lui a permis de remporter la guerre contre son frère, et met l'accent sur les aspects relatifs à l'image du Brésil et du Portugal.
Fichier principal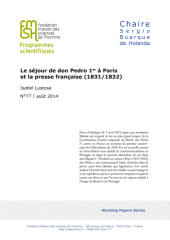 FMSH-WP-2014-77_Lustosa.pdf (2.14 Mo)
Télécharger le fichier
Origin : Files produced by the author(s)