Penser l'Inde émergente : de l'altérité orientaliste au post-postcolonialisme
The Idea of emerging India: From Orientalist Otherness to post-postcolonialism Besides the cliché of India's structural otherness, there was a time when European intellectuals were fascinated by what Ancient India had brought to universal knowledge. Then came the time when India was seen as an emblematic case of poverty and under-development. Today, the concept of emerging India redraws fresh mental maps, at home and abroad. This calls for evaluation. From the Orientalist tradition to post-colonial critique and to current social sciences perspectives, we shall analyse what are the Indian stakes today, for India herself and for the rest of the world. Not just because India accommodates one sixth of the world population but, more importantly, because her internal dynamics, the challenges she has to address and her new globalised horizon unravel experiments whose value goes far beyond her own borders. We need to ponder over them in order to understand the world of today -- and the world of tomorrow.
Après le cliché d'une altérité fondamentale contrastant avec le temps où les intellectuels européens s'intéressaient à l'apport de l'Inde ancienne à la pensée universelle, et après la triste figure du sous-développement, l'Inde émergente rebat les cartes en changeant d'image. Mais ce nouveau concept appelle lui aussi commentaire. De l'exotisme orientaliste aux questionnements postcoloniaux et à l'apport des sciences sociales contemporaines, on esquissera ici ce que sont les enjeux de l'Inde d'aujourd'hui, pour elle-même, mais aussi pour le reste du monde. Pas seulement parce que l'Inde abrite un sixième de l'humanité, mais aussi parce que ses dynamiques internes, ses blocages et ses nouveaux horizons globalisés se nourrissent d'expériences qui valent bien au-delà de ses frontières. Il faut les prendre en compte pour comprendre le monde d'aujourd'hui -- et celui de demain.
Fichier principal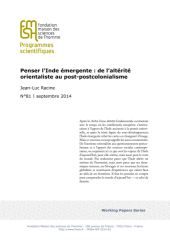 FMSH-WP-2014-81_Racine.pdf (636.54 Ko)
Télécharger le fichier
Origin : Files produced by the author(s)