US special operations forces: on the threshold of a profound evolution?
Les forces spéciales américaines : vers une refondation ?
Created in 1952 to wage « another type of war » (J.F. Kennedy), the US special operations forces (SOF) are, after Afghanistan and Iraq, on the threshold of a profound evolution. The context lends itself: as the Obama presidency avoids large operations, the use of force is preferentially entrusted to them. Enjoying political protection which earned them a particularly comfortable budget, benefiting in the public opinion as within the Congress of a support not far from worship, SOF were able to listen effectively the presidential strategy. That is why they have taken a significant step ahead in managing conflicts in inter-agency mode. They have created a global network, based both on a geographical redeployment of the force and the development of partnerships with other countries units. The canvas of this global network now covers the two thirds of the states of the world. It is built on a foundation of classical training and cooperation, but also on the belief that SOF is a confidence factor to the United States. To achieve the latter objective, they must create a new type of soldier, at the same time commando, diplomat and development expert. This new start will doubtless collide with great difficulties. However, the first measures are taken. They announce a limited appeal to the strength by often violent and always political operations, which are more police actions than war operations. War is left with the partners and with the allies, who now have to rely on themselves and on the support, on their rear, of SOF. Following this logic, SOF could specialize – that is a major innovation - in avoidance of war. The theoretical analysis of those new practices - that can not be extracted from a broader strategic plan - proves to be difficult and contrasted from one author to another. Few of them saw that the SOF announced a new military intervention mode, more in the service of the order and of the peace than in that of the war and its chaos.
Crées en 1952 pour mener une guerre d'un type nouveau, selon l'expression de J. F. Kennedy, les forces d'opérations spéciales américaines (SOF) sont, après l'Afghanistan et l'Irak, au seuil d'une profonde évolution. Le contexte s'y prête : la présidence Obama excluant tout recours à de grandes opérations, l'utilisation de la force leur est confiée préférentiellement. Jouissant d'une protection politique qui leur vaut un budget particulièrement confortable, bénéficiant dans l'opinion populaire comme au sein du Congrès d'un soutien exceptionnel, les SOF ont su se mettre à l'écoute de la stratégie présidentielle. C'est pourquoi elles ont pris un temps d'avance considérable dans la gestion des conflits en mode inter-administration. Elles ont créé un réseau mondial, fondé à la fois sur un redéploiement géographique de leurs forces et sur la mise au point de partenariats avec des unités d'autres pays. La toile de ce réseau global s'étend aujourd'hui sur les deux tiers des Etats du monde. Elle se construit sur un socle classique de formation et de coopération, mais également sur la conviction que les SOF sont un facteur de confiance envers les Etats-Unis. Pour parvenir à ce dernier objectif, elles doivent créer un nouveau type de soldat, à la fois commando, diplomate et coopérant technique. Ce nouveau départ se heurtera sans doute à de grandes difficultés. Cependant, les premières mesures sont prises. Elles annoncent un recours ponctuel à la force par des opérations souvent violentes et toujours politiques, qui relèvent plus de l'action de police que des opérations de guerre. Ces dernières sont laissées aux partenaires et aux alliés, qui doivent désormais compter sur eux-mêmes et sur le seul soutien, sur leurs arrières, des SOF. Au terme de cette logique, les SOF pourraient se spécialiser – innovation majeure – dans l'évitement de la guerre. L'analyse théorique de ces nouvelles pratiques – que l'on ne saurait extraire d'un plan stratégique plus général – se révèle difficile et contrastée d'un auteur à l'autre. Peu d'entre eux ont vu que les SOF annoncent un nouveau mode d'intervention militaire, plus au service de l'ordre et de la paix qu'à celui de la guerre et de son chaos.
Fichier principal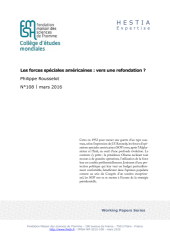 FMSH-WP-2016-108 Rousselot.pdf (770.46 Ko)
Télécharger le fichier
Origin : Files produced by the author(s)