Scarcity in the Study of Boko Haram in Nigeria: Notes from the Field (2013-2016)
La rareté des données dans l'étude de Boko Haram au Nigeria : Notes de terrain (2013-2016)
Escassez no estudo do Boko Haram na Nigéria: Notas de campo (2013-2016)
Since the national and subsequent international spotlight has been put on Boko Haram in 2009, the Nigerian sect has piqued the curiosity of the academic and non-academic worlds. The continuous stream of scholarly, media and general audience writings focusing on Boko Haram is testament to this. The skirmishes between Boko Haram fighters and the Nigerian security forces in north-eastern Nigeria in July 2009, leading to the extra-judicial killing of Mohammed Yusuf, the sect's leader, proved to be epochal in shaping and changing the history of the movement—turning it from a fringe radical Islamic sect to an insurgent movement. In the years that have since followed, the multiple narratives that have emerged on various topics relating to Boko Haram have attempted to shape public opinion based on the limited data available on the sect's activities. Drawing upon an analysis of relevant scholarship and fieldwork data, this article argues that the post-July 2009 policy of the Nigerian government and military has engendered an economy of data scarcity on Boko Haram. This scarcity, which has negatively affected the quality of the outputs disseminated on the sect, can only be addressed through the collection, production and use of more primary data from the field. This article draws upon ethnographic data collected during fieldwork in 2013-2015 in northern Nigeria, and north-eastern Nigeria in particular, to make the argument that the absence of a wider stream of ethnographic data on Boko Haram has encouraged the use of derivative data, and in some cases of no data at all. The anthropological sources of data have to be emphasized in order to fill the glaring gaps which the economy of data scarcity is responsible for, thus affecting the study of Boko Haram.
Depuis que les feux des projecteurs nationaux et internationaux ont été braqués sur Boko Haram en 2009, la secte nigériane attise la curiosité des milieux universitaires et non-académiques. En témoigne le flux continu d'écrits scientifiques, médiatiques et de vulgarisation consacrés à Boko Haram. Les accrochages entre les combattants de Boko Haram et les forces de sécurité nigérianes dans le nord-est du Nigeria en juillet 2009, qui ont conduit à l'exécution extrajudiciaire de Mohammed Yusuf, le chef de la secte, ont constitué une étape décisive dans le façonnage et la transformation de l'histoire du mouvement. Depuis, cette secte islamique radicale et marginale est devenue un mouvement insurgé. Dans les années qui ont suivi, de multiples récits ont émergé sur divers sujets relatifs à Boko Haram. Ils ont contribué à façonner l'opinion publique sur la base des données très limitées dont on dispose sur les activités de la secte. En s'appuyant sur l'étude de travaux spécialisés et de données collectées sur le terrain, cet article soutient que la politique menée par le gouvernement et l'armée nigérians après juillet 2009 a conduit à une économie de la rareté des données sur Boko Haram. Cette pénurie, qui a un effet négatif sur la qualité des travaux produits sur la secte, ne peut être résolue que par la collecte, la production et l'utilisation de matériaux primaires issus du terrain. En ce sens, cet article s'appuie sur des données ethnographiques collectées lors de missions réalisées entre 2013 et 2015 dans le nord du Nigeria, et le nord-est en particulier. Il montre combien l'absence de production de riches données ethnographiques sur Boko Haram a conduit à l'utilisation de données dérivées, voire à des analyses démunies de données. Il importe de mettre en lumière l'importance des sources anthropologiques des données afin de combler les lacunes flagrantes dont cette économie de la rareté des données est responsable, lesquelles affectent l'étude de Boko Haram.
Desde que os focos dos projectores internacionais se fixaram sobre o Boko Haram em 2009, esta seita nigeriana tem atiçado a curiosidade dos meios universitários assim como não académicos. É disto testemunho o fluxo contínuo de textos científicos mediáticos e de divulgação consagrados ao Boko Haram. Os confrontos entre os combatentes do Boko Haram e as forças de segurança nigerianas no nordeste da Nigéria em Julho de 2009, que levaram à execução extra-judicial de Mohammed Yusuf, chefe da seita, constituíram uma etapa decisiva para a formação e transformação da história do movimento. Desde então esta seita islâmica radical e marginal tornou-se um movimento insurgente. Nos anos que se seguiram, emergiram múltiplas narrativas sobre diversos assuntos relacionados com o Boko Haram. Estes contribuíram para formar a opinião pública com base nos dados muito limitados disponíveis sobre as actividades da seita. Apoiando-se no estudo de trabalhos especializados e de dados recolhidos no terreno, este artigo defende que a política conduzida pelo governo e exército nigerianos, depois de Julho de 2009, engendrou uma economia de escassez de dados sobre o Boko Haram. Esta penúria, que tem um efeito negativo sobre a qualidade dos trabalhos produzidos sobre a seita, só pode ser resolvida com a recolha, produção e utilização de materiais primários provenientes do terreno. Neste sentido o artigo apoia-se em dados etnográficos recolhidos durante missões realizadas entre 2013 e 2015, no norte da Nigéria, em particular no nordeste. Mostra como a ausência de produção de um amplo fluxo de dados etnográficos sobre Boko Haram conduziu à utilização de dados derivados, isto é, a análises desprovidas de dados. É importante destacar a importância das fontes antropológicas dos dados a fim de colmatar as lacunas flagrantes, de que esta economia de escassez de dados é responsável, o que afecta o estudo do Boko Haram.
Fichier principal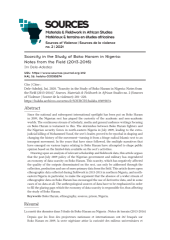 SOURCES_02_06_I_DELE-ADEDEJI_Scarcity_in_the_Study_of_Boko_Haram_in_Nigeria.pdf (363.4 Ko)
Télécharger le fichier
Origin : Files produced by the author(s)