La fuite managériale devant la complexité : l'exemple historique du "lean management"
This paper studies the curious odyssey of "Lean Management"... Under this label, managerial ideas and practices have undergone, first a decisive step towards process thinking, and then a striking return to planning and variance control habits. The study of this historical shift can give us clues about obstacles to process thinking in the managerial world. The paper will first recall the key ideas originally highlighted by the pioneers of "lean management", based on the Toyota Production System (TPS), and their distinctly processual orientation. Then it will review the practices today labelled as "Lean Management" and the surprising historical reversal they reveal. Finally it will review some of the potential reasons why such a reversal took place, with a particular focus on the treatment of time and the notions of slack and wasted time.
Ce texte étudie la curieuse odyssée du "Lean Management"... Sous cette appellation, les théories et les pratiques managériales ont connu tout d'abord un virage décisif vers une vision processuelle et dynamique des organisations, puis un retour en arrière frappant vers les visions planificatrices et le contrôle par écarts. L'étude de ce renversement historique peut nous donner des clés de réflexion sur les obstacles à la vision processuelle des organisations dans le monde managérial. Le texte rappelle d'abord les idées clés mises initialement en avant par les pionniers du "lean management", fondées sur le Toyota Production System (TPS), et sur leur orientation clairement processuelle. Puis il analyse les pratiques aujourd'hui désignées comme "Lean Management" et le renversement historique surprenant qu'elles manifestent. Enfin il tentera d'identifier quelques-unes des raisons qui peuvent potentiellement expliquer ce renversement, en insistant particulièrement sur le traitement du temps et les notions de "slack" et de "gaspillage".
Fichier principal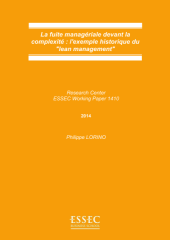 WP1410.pdf (738.36 Ko)
Télécharger le fichier
Origin : Publisher files allowed on an open archive