Tendances de l'offre de transport ferroviaire international de marchandises
The offer as concerns land transport on an international level is characterized by structural as well as functional deficiencies. The realization of a unique European market within the context of increasing deregulation obliges transportation firms to position themselves as industrialists of circulation. Improved efficiency in transportation, bringing greater added value, is consequent upon new strategies and productive combinations based upon the organization of net works. linking the international to the national, resulting in the supply of system-products made up of an ensemble of polyvalent characteristics, being closely integrated within the cycle of supply-production-delivery and transforming the function of conveying into a genuine process of delivery.
L'offre nationale de transport terrestre international est marquée de déficiences aussi bien structurelles que fonctionnelles. La réalisation du marché unique européen dans un univers de déréglementation accélérée, impose aux entreprises de transport de se positionner en tant qu'industriels de la circulation. Une meilleure efficacité des transports, porteuse de plus grande valeur ajoutée, passe, par de nouvelles stratégies et combinaisons productives fondées sur l'organisation de réseaux, articulant l'international au national, débouchant sur une offre de produits-systèmes constitués d'un ensemble de propriétés polyvalentes, s'intégrant étroitement au cycle approvisionnement-production-livraison et transformant la fonction d'acheminement en véritable processus de cheminement.
Fichier principal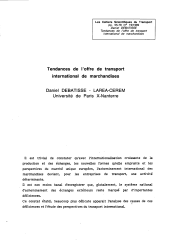 CST_19_04_DEBATISSE.pdf (801.39 Ko)
Télécharger le fichier
Origin : Explicit agreement for this submission