Enquête auprès des chargeurs : pour une nouvelle approche de la description des flux de marchandises
A survey of 1740 shippers, industrialists and merchants, was conducted by INRETS in 1988. New methodological devices led to a breakthrough in the knowledge of commodity transportation: - a systematic coverage of all agents involved in the transport led to a full description of the transport chain; - rather than tons and ton-kilometers, the basic unit is the shipment; - systematic questions on the consigner and consignee economic characteristics bring a better understanding of the role of transportation in the economic process. Beyond the 1740 shippers, specific questions were asked to more than 5 000 carriers or transport agents. The second part of the paper presents some interesting results, which could not have been obtained through the currently available statistical data. They include a typology of transport chains, a description of how the various carriers and agents are connected, an analysis of what for, and to what extent computers are used in transportation.
Une enquête, réalisée par l'INRETS en 1988 auprès de 1740 chargeurs industriels et commerçants en gros, a été l'occasion d'innovations méthodologiques qui éclairent d'un jour nouveau le transport de marchandises. L'article présente d'abord les trois innovations essentielles : - la connaissance de la chaîne de transport de bout en bout, par l'interrogation de tous les professionnels intervenant dans le transport ; - la quantification du transport en termes d'envoi (et non plus seulement tonnes et tonnes-kilomètres) ; - enfin la possibilité de connaître l'insertion du transport dans l'économie, c'est-à-dire pouvoir relier les chargeurs, leurs caractéristiques, leurs demandes et l'offre de transport correspondante. En plus des 1740 établissements industriels et commerciaux «chargeurs», quelques 5000 «intervenants transport» ont été interrogés. Dans une deuxième partie, quelques résultats nouveaux sont présentés qui mettent en évidence les apports de l'enquête, par rapport aux sources statistiques existantes. Les résultats portent notamment sur les configurations des marchés par l'analyse séquentielle des chaînes de transport, le rôle et l'articulation des professions de transports et l'utilisation de l'informatique.
Fichier principal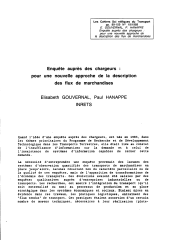 CST_19_06_GOUVERNAL.pdf (836.27 Ko)
Télécharger le fichier
Origin : Explicit agreement for this submission